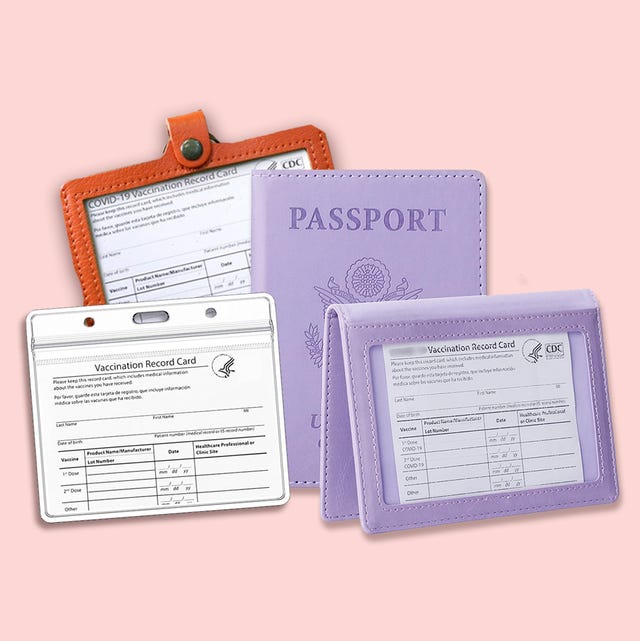 Courtesy of Amazon and Etsy
Showing proof of a COVID-19 vaccination is becoming more common for Americans who wish to partake in public activities like eating out, shopping or heading to the gym — with many employers and educational institutions also requiring a flash of a vaccine card for entrance as well. It's true that a large number of states have banned requiring residents to display cards in public, but if you're planning on any sort of international air travel, you'll definitely need to display your card frequently (along with a whole other suite of documents).
Since COVID-19 vaccinations were offered en masse at pop-up clinics across nearly every state this year, your card — which indicates the type of vaccine you received, when it was administered and where you received it — may be the only record that can be used by officials. It's important to keep these cards safe, in tip-top shape and to have a copy sent to your primary care provider's office, who may help you obtain another vaccine card if you should misplace it. It's also important to note that not all vaccine cards may be the exact same size; Time reports that vaccine providers had to produce supplies quickly. Most cards come in at 4″ wide and 3″ long, however.
The key to keeping your card safe and secure while displaying it daily is not to laminate it permanently, but to store it in a waterproof case or holder. After all, with additional COVID-19 vaccine doses on the near horizon for most Americans, vaccine administrators will need to add new information to your card to keep your records updated (and to ensure you're getting the right dose, especially Johnson & Johnson recipients). Keeping your card in a holder or a tightly sealed case can help you display it on the fly when required to do so and simply remove it when it's time for additional vaccinations later this year.
Below, we're highlighting 10 best-selling vaccine card holders, cases and displays that shoppers are using to keep cards safe against wear-and-tear while keeping it close for everyday use. A few of these options are intended to be used in existing wallets, bags or purses; others may be attached to a lanyard for office or school. And some are designed to be used concurrently with your passport on your next trip abroad.
Advertisement – Continue Reading Below
1
Best Overall Vaccine Card Case
Leather Vaccine Card Holder with Key Ring
FamiliarPaws
etsy.com
$17.32
Designed with a key ring to affix to bags or other keychains alike, this grain leather holder has been designed to snugly envelop your COVID-19 vaccine card. More than 350 Etsy customers have awarded it a 5-star review, mostly in part because the manufacturer allows full custom engraving on the reverse side of the holder. "This was exactly what I wanted. The customization was perfect, and it fits my vaccine card perfectly," says one verified review. 
2
Best Bulk Vaccine Card Protector
(5 Pack) CDC Vaccination Card Protectors
If you're looking to keep track of all of your family's vaccine cards, or if you're hoping to provide a carrier for employees or students, this bulk pack is best for you. These waterproof cases are designed specifically to fit the 4″-by-3″ profile of the card and can be used with lanyards, sold separately. "I like that this protects because it is thick and transparent, so it should protect the card from getting damaged or bent, but that I can remove the card to have it updated later," a shopper shares.
3
Best Card Holder for Travel
Passport and Vaccine Card Holder Combo
Made from faux leather, this water-repellant passport case provides a built-in vaccine card display into its seamless design, making it a great option for those heading overseas. Available in a handful of colors and finishes, the passport holder prevents crumpling or bending both of these important documents with a slim casing, meaning it can easily fit into a jacket pocket, a handbag's lining, or within a fanny pack or other travel grab-bag. "So compact, and everything fits well in the convenient holder for easy access and display when going on your next cruise," one reviewer shared. 
4
Best Vaccine Card Holder for Kids
Summon Antibodies Vaccine Card Holder
CQNCHandmadeItems
etsy.com
$22.00
Believe it or not, Etsy artisans and other online storefronts are getting very creative with themes when it comes to effective COVID-19 vaccine card protectors and holders. Just take this Harry Potter-themed product for example! There are options for every diehard pop culture stan, from purrfect cat references to even Schitt's Creek options like this one here! "I love this and know lots of friends will love this as well."
5
Best Lanyard Vaccine Card Holder
Extra Large Holders with Lanyards (2 Pack)
Made without frills, these heavy-duty PVC card holders are sold attached to a sturdy lanyard as is. Its tight seal indicates that it is virtually waterproof and will protect against any moisture; and if you're traveling, you'll also be able to store a passport in this pouch alongside your COVID-19 vaccine card. One shopper indicates the attached lanyards are anything but cumbersome for all-day wear: "I purchased these mostly for the lanyard they are on and I am very pleased!"
6
Vaccine Card Holder (2-Pack)
If you're looking for a non-plastic option that also comes with a lanyard, this is best for you. The PVC plastic window here can help keep moisture out if the holder is stored in a backpack or purse throughout the day. "This is not only for covid vaccine cards but it also has two slots for a credit card on the other side," one shopper says. "It's very handy for traveling and keeping all of my stuff together and safe."
7
Vaccine Cardholders
BestSellerLeather
etsy.com
$16.00
The logos and personalized name engravings are optional, but each of these best-selling Etsy vaccine cardholders is made with quality leather and a sturdy crabs-style latch. "The leather is so soft and they are beautiful!" a shopper shares.
8
Passport Holder and Vaccine Card Holder
Designed to provide ample space for both a passport and a vaccine card, this travel organizer can be useful if you prefer to keep important documents all in one place. The built-in PVC window display is accompanied by a magnetic clasp that's easy to flip up to show off your COVID-19 vaccine card to anyone who asks. And there is more than one spot for extra storage: "3 slots for cards, a pocket, and a clear sleeve for either a passport or vaccination card," a reviewer shares.
9
Vaccination Card Flip Case
Cotton Boutique
etsy.com
$3.99
This cotton-based flip COVID-19 vaccine card holder is as simple as it seems; it keeps the card firmly secured in a soft carrying case. While it is more moisture-prone than other options on this list, reviewers say it's sturdy nonetheless for those who are looking for fabric-based options. "I got the cute unicorn print and it keeps my vaccination card from getting damaged and makes it really easy to find when I need to show it!"
10
Vaccine Card Protector (2 Pack)
Employees who have to display their vaccine cards (or students on campus!) should have it handy as they move about buildings. This lanyard-loaded case is double-sided and water-resistant as it clicks into place with a locking mechanism rather than a plastic PVC shield. "The matte black borders make them look fancy and the plastic on them is good in case you spill something on it accidentally," a reviewer shares.
This content is created and maintained by a third party, and imported onto this page to help users provide their email addresses. You may be able to find more information about this and similar content at piano.io
Advertisement – Continue Reading Below
Source link