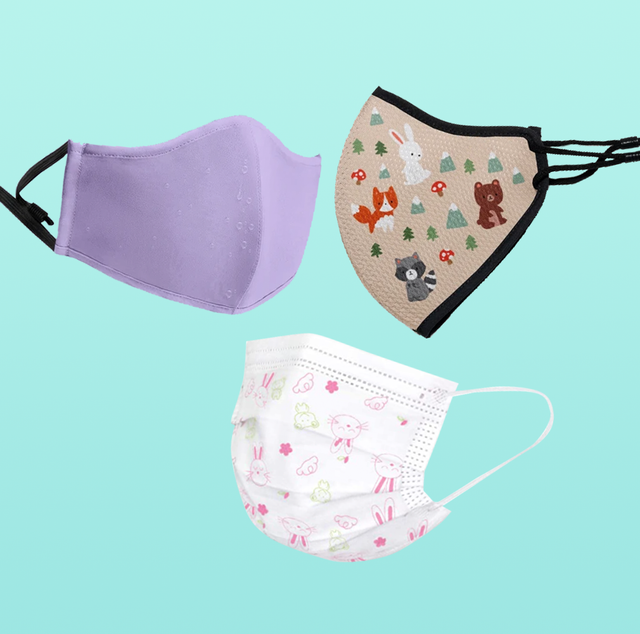 Courtesy Images / Laura Formisano
Parents are facing the reality of sending their children to school in a face mask for another year after officials at the Centers for Disease Control and Prevention (CDC) reverted national health guidelines to once again recommend masks in public. In some areas, families may already be seeing resumed mask mandates from local health boards after this update, in cities within California, Nevada and Massachusetts, among others per ABC News' report.
Even if your child is old enough to be vaccinated, it's likely they'll need face masks in school to limit the spread of COVID-19. Kids who wear prescription glasses or other eyewear during the school day have likely experienced fogged lenses from warm breath while wearing a mask — but short of switching to contact lenses, finding a long-term solution to prevent foggy glasses for your child often requires a second look at his or her mask.
What's the best mask for kids with glasses?
Whether it's a disposable mask or a sewn cloth mask, design is crucial to keep hot breath from collecting on a pair of glasses. The best kids' masks for those who wear glasses incorporate the following design features:
A nose bridge: A bendable metal clip that sits on the bridge of a child's nose and cheeks works to push hot breath out of the front of the mask, not up.
Head ties or adjustable ear loops: These allow your child to ensure their mask isn't too loose on their face, which can definitely redirect airflow up towards their eyes.
A flat folded front: It's always best to have the bottom lenses of a pair of glasses sitting on top of the mask itself, rather than on the cheek, as it helps weigh the mask down.
Chin fit: If the mask doesn't comfortably sit beneath your child's chin, it can shift and move while they're speaking, and easily flood the lenses on their face.
Wicking fabric: Masks can become damp throughout the school day, meaning it'll be too saturated to keep hot breath from passing through the top of your child's face mask. Look for a wicking fabric that pulls moisture away from skin.
The Good Housekeeping Institute's Textile Lab regularly tests surgical and cloth-based face masks to see how construction holds up in real-world environments after multiple hours of use. We also work with tester panels to test out masks in day-to-day life. While we haven't expressly tested each product on this list to see how they interact with bifocal lenses, we've chosen products made in line with current CDC construction recommendations for kids and young adults.
These are the best face masks for children wearing prescription glasses or any other lens, according to textile professionals and health editors on staff:
Advertisement – Continue Reading Below
1
BEST DISPOSABLE FACE MASK FOR KIDS WITH GLASSES
Face Masks, 100-Pack
Pac-Dent
amazon.com
$42.00
A great option for any child with a packed extra-curricular schedule, these surgical masks are designed to fit snugly against the face, with a tri-fold front that keeps comfort in mind. The masks' second inner nonwoven layer works to absorb excess moisture throughout the day, keeping hot breath away from lenses just above the mask's nose bridge clamp.
ASTM Level 3 Classification
Bulk purchase option for larger families
Not recommended for use above age 12 due to petite design
2
BEST REUSABLE MASK FOR KIDS WITH GLASSES
Child's Pro Mask
Happy Masks
happymasks.com
$24.00
A reusable option for those who prefer it, this mask has been designed with safety top of mind — its built-in nanofiber membrane filter claims to protect against 99.9% of harmful pollutants and virus particles. Its unique convex structure keeps the mask up and away from your mouth, reducing muffling and condensation build-up.
Adjustable ear straps for proper fit
4 sizes available for larger heads
Shape may push mask's upper trim away from cheekbones
3
BEST VALUE FACE MASK FOR KIDS WITH GLASSES
3-Layer Disposable Kids' Face Mask, 50 Pack
Little Lives PPE
amazon.com
$25.99
Created and manufactured here in the United States, this polypropylene-based surgical mask is disposable after a day's use at school. Packing extra masks in your child's school bag will ensure they have fresh coverage all day; as masks become moist with condensation, a child can swap them out in the bathroom, at recess, or between classes. 
Adjustable nose wire for a firm, secure fit
Three layers of nonwoven materials for easy filtration
Can become oversaturated within 4 to 5 hours of use
4
BEST FACE MASK FOR SCHOOL-AGED KIDS WITH GLASSES
Crayola Face Masks, 5-Pack
School MaskPack
amazon.com
This adorable set comes as a pack of five masks designed for each school day during the week. Designed in a wide range of sizes for students across grades and ages, the cotton-based reusable masks come with a washing bag to make weekly routines that much easier. The upward design of the flexible nose bridge interacts perfectly with your child's glasses', allowing the frames to rest just atop the masks' upper seal.
Adjustable nose band across sizes
Fully customizable ear loops and head ties
Name tags embedded on the mask front
2-ply masks aren't made with filter pocket
5
BEST CHARACTER FACE MASK FOR KIDS WITH GLASSES
Disposable Kids' Face Mask, Barbie, 14 Count
Barbie's not the only beloved character bringing joy to masking routines during the pandemic — Harry Potter, Batman, Paw Patrol, and Hello Kitty are just a few design inspirations for these petite surgical masks. The brand is donating a portion of its proceeds towards COVID-19 relief funds with every box purchased (read more about its mission here). 
3-ply nonwoven fabric mask front
Adjustable nose clip
Masks are limited to children below the age of 7
6
BEST CUSTOM FACE MASK FOR KIDS WITH GLASSES
Reusable Screen Printed Kids' Face Mask
Vistaprint
www.vistaprint.com
$13.00
Another solid reusable option, Vistaprint's cloth mask has a signature convex-style nose pouch in its design that helps keep masks up and off your child's mouth. The extra room may make it easier for breath to be pushed out of the mask's front rather than saturate its interior lining. An added bonus? There are countless designs in Vistaprint's collection your little one will love — from DC to Harry Potter, Crayola-themed options to completely custom designs using your own images.
Additional filter pocket design
Fully customizable ear loops and nose clip
2 layers of polyester without filter, sold separately
7
BEST INDIVIDUALLY WRAPPED FACE MASK FOR KIDS WITH GLASSES
Disposable Face Masks for Kids, 50-Pack
Individually sealed masks are a solution for activities out of the house, as they're invaluable in places where hands may be dirty (think: the playground!). There are more than 10 designs and prints used to create the disposable surgical-style masks in this bulk box — a great solution for siblings to share on the fly.
Adjustable nose clip and ear loops
Individually sealed for protection
Masks' front measurements are larger than most in market
8
BEST WATER-REPELLANT FACE MASK FOR KIDS WITH GLASSES
Kids' Fluid Resistant Cloth Mask
Mandala
mandalascrubs.com
$8.00
Leave it to your little ones to find a way to get their masks soaked. Because wet surgical and cloth masks can be a suffocation hazard (it's much harder to breathe through!), this personal protective equipment manufacturer has created a water-repellant reusable mask for all ages. The pure cotton lining can help keep things dry, however, and maintain hot breath throughout the day.
Adjustable ear loops and nose clip
Additional filter pocket design feature, includes 3 filters
One size for kids, may be too large for kindergarten-aged kids
9
BEST SPORTS FACE MASK FOR KIDS WITH GLASSES
Made To Move Mask, 3-Pack
Athleta
athleta.gap.com
$9.99
Wearing a mask while running about is a tall order for most kids, but the sporty nature of these performance wear-based face masks help to make masking up less of a strain overall. The mesh polyester lining is easier to breathe through while playing sports or other games. And since it comes with an elastic ear loop binding to secure to the back of one's head, it won't wear your ears down after a long afternoon. 
Moisture-wicking fabric can help during physical activity
Additional filter pocket design feature
10
BEST OUTDOOR FACE MASK FOR KIDS WITH GLASSES
Solid Face Mask
Machine washable and guaranteed for at least 100 cycles, Enro's streamlined cloth mask contains an additional filtration layer while remaining breathable for long periods of time. The outer fabric layer is water repellant, and the interior lining remains comfortable throughout the day and sits up and above your child's face. This is a great option for kids (with many different designs!) spending lots of time outdoors given its outer shell. 
Made in two different kids's sizes for best fit
Adjustable ear loops and nose bridge seal
11
BEST CUTE FACE MASK FOR KIDS WITH GLASSES
Kids Face Mask, 2-Pack
Cubcoats
amazon.com
$9.99
An inexpensive option that can be washed and reused, Cubcoats' matching face masks are a favorite for younger kids who love to twin it up with their stuffed animals. Because the masks are designed to fold up into a wristlet or an accessory for the toy itself, this mask is often a great way to send a backup to school that won't end up lost. The 3-ply cotton and polyester blend can work to ensure hot breath doesn't end up all over your child's glasses.
Easily folds into accessory toy for storage
Additional filter pocket design feature
12
BEST CLEAR FACE MASK FOR KIDS WITH GLASSES
Kids Smile Mask With Ear Loops
Rafi Nova
www.rafinova.com
$10.00
If your child is involved in a speech learning program, a clear mask may make learning that much easier. Rafi Nova's mask design includes a rising flat front with a bendable nose bridge to allow kids to simply place their glasses atop the mask. Plus, the brand sells additional anti-fogging solutions for its clear plastic speech windows to make sure steam doesn't mark up this mask either. 
Adjustable ear loops for a custom fit
Clear panel for visibility
Plastic speech window will need spray application to prevent fogging
This content is created and maintained by a third party, and imported onto this page to help users provide their email addresses. You may be able to find more information about this and similar content at piano.io
Advertisement – Continue Reading Below
Source link