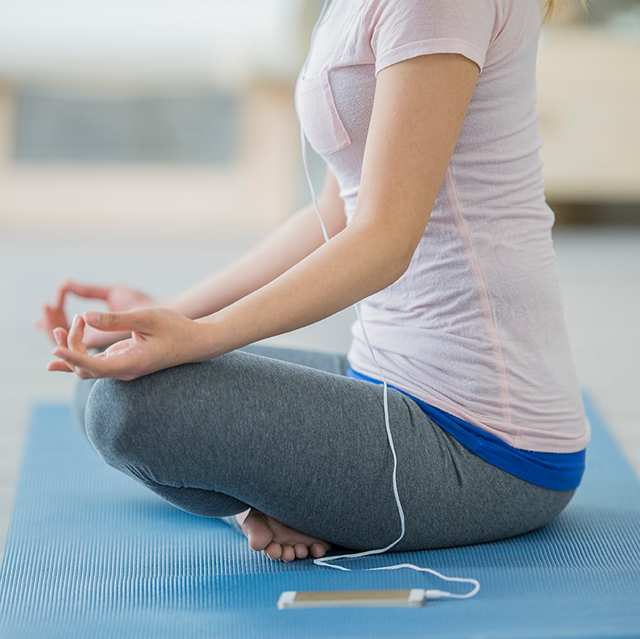 Getty Images
The idea of taking time out of your day to meditate can seem unattainable (or at least at first!). If you're running into moments during the day where you can't focus because you're overwhelmed, though, there's a chance you're practicing some of modern meditation's tentpoles without knowing it. Whether you're currently trying to balance a busy work-at-home schedule, or trying to hone your productivity skills for an upcoming exam, there are aspects of meditation that may help you train your mind to maximize your full potential.
Yogmata Keiko Aikawa, an internationally renowned Siddha Master who has been previously worked with the United Nations Culture of Peace Program, told Good Housekeeping that meditation helps us organize our thoughts and physically calms an otherwise busy brain. "In other words, mediation means to do nothing, and to be here now or be in the present while suspending the activities of the mind. It awakens not mind, but consciousness, and purifies the mind," Aikawa explains.
Believe it or not, there's no right or wrong way to meditate, Aikawa says — it's about taking time to do so as frequently as you can. One way could be focusing on a "mantra," a chosen sacred sound that "serves to purify" when it's repeated, but most people develop their own solutions to reset and relax or destress in the moment. Over time, Aikawa explains actively mediating could reduce fatigue, increase concentration, and improve your cognitive prowess.
Experts often preach the holistic benefits of meditation to those interested in improving their mindfulness — and yet, there are well-documented scientific points that suggest meditation may benefit anyone who is willing to practice it. Scientists have established that the brain can adapt through meditation: A 2017 study published in the Journal of Alternative and Complementary Medicine by a team of researchers at Harvard University found that people who meditated over an eight-week period were able to better regulate their blood pressure and inflammation through gene expression. Another 2013 study published in the Journal of Clinical Psychology found that clinically anxious people were able to significantly reduce their anxiety by, in part, practicing meditation during the same eight-week period.
How can I start practicing meditation?
In the last few years, mobile apps and their guided meditation services have gone online to help people become more mindful wherever they may be. Rachel Rothman, the Good Housekeeping Institute's chief technologist and director of engineering, says the best meditation apps have elements that blend auditory and visual guidance to help people practice meditation routinely. Some are free and could be a great way to get started if you've never meditated before, but others require a subscription to unlock more content for regular practitioners who need more variety to keep their routine in check.
Here, we're outlining some of the best services available to mobile users based on Rothman's recommendations, as well as current users' ratings.
Advertisement – Continue Reading Below
This content is created and maintained by a third party, and imported onto this page to help users provide their email addresses. You may be able to find more information about this and similar content at piano.io
Advertisement – Continue Reading Below
Source link