Gift Ideas
25 Best Stocking Stuffer Ideas for Toddler Boys and Girls 2021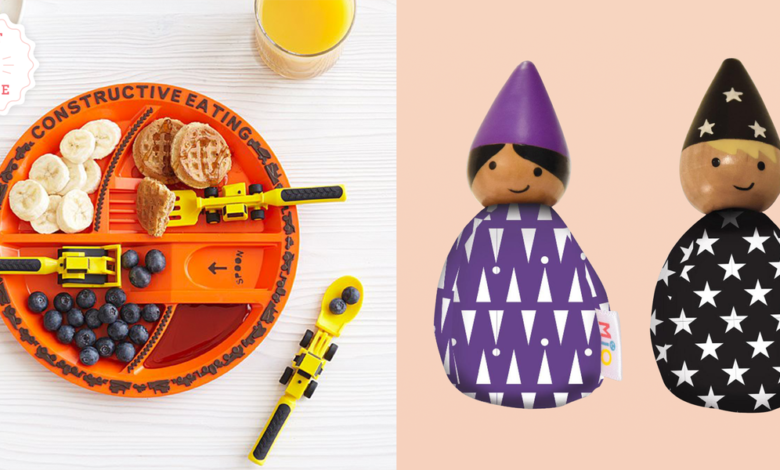 When it comes to buying gifts for kids, once you've got the bigger-buy toddler gifts out of the way, then comes the fun part: the stocking stuffers! Whether you're buying stocking stuffers for kids or inexpensive gifts for adults, buying a few little items is actually a more fun shopping experience, since the lower price points means you can go a little out-of-the-box.
Some people think that the bigger and more expensive the present, the better. Toddler stocking stuffers prove that sometimes the best things come in the smallest package. (Or sometimes they prove that the best thing is the packaging. But we promise these toys below will rival the boxes they come in.) These gifts are all $20 or less, and they feature some amazing characters, songs and bells and whistles that are near-guaranteed to put a smile on your child's face. Some of them are even secretly educational toys. Whether you're looking to give them bath toys, building blocks or something to snuggle up with at night, take a look at our picks for the best stocking stuffers for toddlers.
FYI: Even more than a year later, we're still seeing a pandemic effect on availability and shipping times. Make sure you check before you buy!
Construction Plate & Utensils
Uncommon Goods
uncommongoods.com
$15.00
If you've got a picky eater on your hands, these construction tool utensils make the job a little more fun. Tell them to think of this plate as the blueprint to a super strong body! Similar sets come with garden or dinosaur themes. Ages 2+
RELATED: The Best Toys for 1-Year-Old Kids
Water Wow! Dinosaurs Reusable Activity Pad
Melissa & Doug
amazon.com
Fill the brush with nothing but water, and like magic your child can "paint" a scene, with the water revealing the colors and hidden pictures on the page. This is great for cars and restaurants, because your kids will stay entertained without making a mess the way they could with real paint. Ages 3+
RELATED: Fun Stocking Stuffers Under $25 for Everyone On Your Christmas List
Ricecrunch Carrot Mini Plush
Funkeys Lights & Sounds Toy Keys
B. Toys by Battat
target.com
$10.99
This BPA- and phthalates-free set replaces the real car keys they're always trying to grab. Bonus: the "beep beep" sound that the buttons make are designed to be less annoying to parents' ears. Ages 10 months+
MiO Magical People
Manhattan Toy
amazon.com
$9.99
pipSquigz
Fat Brain Toys
amazon.com
$24.95
These silly-looking suction cups stick together, pop apart make fun rattle sounds and more. They can also be used in or outside of the tub. Ages 6 months+
Baby Shark's Big Show! Song Cube
Of course, you can always get the OG Baby Shark Song Cube, but now there is a redesigned version that ties into Baby Shark's Big Show. You can sing along with the theme song, stack them and collect characters like Baby Shark, Mommy Shark, Daddy Shark, William, Vola, Hank, Goldie and Chucks. (And bonus: You won't have to hand over your phone every time your toddler wants to hear the "Baby Shark" song.) Ages 2+
Monster Truck T-Shirt
D. Darlyng & Co.
darlyngandco.com
$14.99
Give your truck-loving toddler this shirt, and they'll be all revved up! It's made of 100% cotton. Fits ages 18 months – 5 years
Playfoam
Educational Insights
amazon.com
$8.99
Click and Count Remote
It's just a fact that all toddlers like to mash the buttons on a remote control. Instead of breaking your TV, get this one, which plays more than 45 songs, sound effects and phrases. Ages 6 months+
Little People 'The Office' Figure Set
Okay, maybe this is a gift for a toddler's The Office-loving parents, but kids love to play with these, too! If The Office isn't the right fandom, there are also Little People sets for Lord of the Rings and Run DMC. Ages 1+
Penguin Bedtime Classics Board Books
Viking Books for Young Readers
amazon.com
$7.99
Switch up the nighttime routine with some new board books for the nighttime shelf. The Penguin Bedtime Classics distills favorite stories, The Wizard of Oz, Jack and the Beanstalk, and Alice in Wonderland, into toddler-sized board books — all while featuring diverse illustrations. Ages 2+
Best Building Toy for Toddlers
Peek-a-Blocks Panda Slide
Mega Bloks has figured out how to add another dimension to toddler building blocks. If you place the round "Peek-a-Block" on a peg, the panda will open its arms and reveal its eyes, as if it were playing peek-a-boo. Or, if it's not on a peg, the ball shape allows it to roll down the slide. It's a building block, a buddy and a marble run in one. Ages 1+
RELATED: The Best STEM Toys for Kids, According to Experts at the Good Housekeeping Institute
Learning Avocados
Learning Resources
amazon.com
$16.99
You can get these for the kids of your avocado-toast-loving friends, and feel good knowing that they work on teaching kids colors, emotions and fine-motor coordination. Ages 18 months+
Laugh & Learn Lil' Gamer
This toddler toy will take you back to your own 8-bit video gaming days. There's no real game to play, but toddlers can push the buttons or press down on the cartridge for lights, songs, sounds and phrases that teach directions, colors, numbers and shapes. Ages 6 months+
Squeezable Sloth Stuffed Animal
Manhattan Toy
amazon.com
$9.03
This squeezable sloth is stuffed with memory foam, so when you give him a squeeze, he slowly inflates back into his ball shape. You might even find yourself doing it absentmindedly when your toddler isn't looking. Ages 0+
DUPLO My First Number Train
When they're done building this, they'll be able to drive their masterpiece all over the house. The train's "cargo" also helps kids practice numbers. Little fans might also be interested in the My Fist Alphabet Truck to practice letters and make words. Ages 18 months+
Turtle Bath Toy & Sponge
This little turtle does triple duty: It's a stuffed animal, a bath toy and a washcloth all in one! "Feed" it liquid soap, and kids will look forward to scrubbing. There are even built-in finger pockets so kids can get a grip. No age recommendation given
My First Toddler Crayons
Crayola
walmart.com
$6.56
Get a jump on those early DIY projects with these Crayola crayons, which have a chunky egg shape perfect for little hands. Each one is equivalent to 14 crayons! Ages 1+
Animal Macarons
These are food and friends. Each one is cleverly painted to look like a cute animal, but they also wouldn't look out of place in a play kitchen. Ages 2+
Elephant Family Puzzle
BeginAgain
amazon.com
$12.04
This puzzle challenges toddlers to recognize both shapes and colors. Because of its irregular shape, it's a smidge harder than typical toddler puzzles, so they really have to work their brains. Ages 2+ 
Fishin' Bath Toy
Magnets turn bath time into fishing time: The three characters float in the water, and then kids can catch them with the magnetic rod. Ages 2+
Best Interactive Toy for Toddlers
My Pal Scout
Available in purple or green, this snuggly pal can actually learn your child's name through an accompanying app. Once they become buddies, the pup can sing lullabies, count and teach colors. Ages 6 months+
Woodypets Puzzle
Djeco
kidochicago.com
$15.00
This wooden puzzle has pieces big enough for toddler-sized hands. They might even want to play with the animals when they're not in the puzzle. Ages 1+
Best Personalized Gift for Toddlers
Customized Lovey
KellysCreations4You
etsy.com
$19.00
If your toddler is in the "MINE!" phase — which they all hit eventually — get him a lovey with his name on it, so he knows it's definitely his. This Etsy shop has a large selection of animal blanket dolls to choose from.
This content is created and maintained by a third party, and imported onto this page to help users provide their email addresses. You may be able to find more information about this and similar content at piano.io
Source link