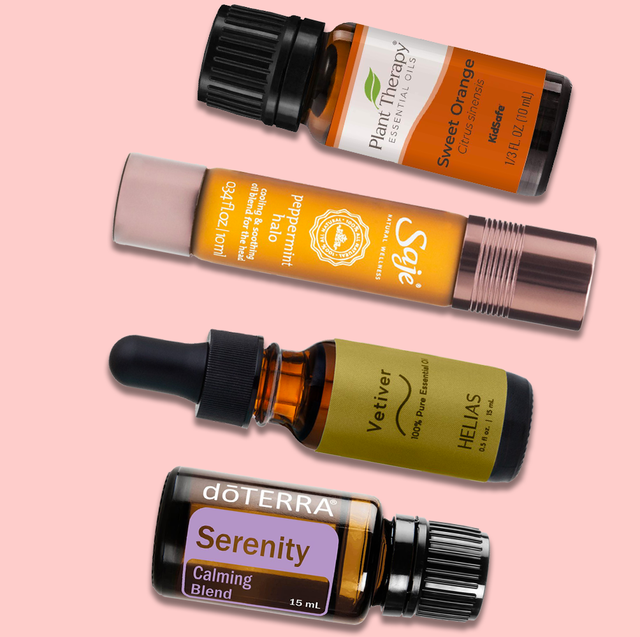 Courtesy Images / Danielle Carson
There's no doubt that essential oils smell incredible — but don't discount them just as pretty bottles laying around spa rooms. In fact, depending on the oil at hand, they can help to relieve a variety of symptoms, including nausea, stress and even pain management. Most importantly, though, doctors and naturopaths have been using essential oils for decades to partially treat anxiety.
A recent study found that of 20 patients who inhaled lavender oil, for example, all later reported feeling more relaxed; researchers also found that the oil caused significant decreases in blood pressure, heart rate and skin temperature. While further research is needed to substantiate this link, researchers also used EEG graphs to measure electrode levels to determine that the benefits weren't psychological alone.
"Essential oils work through the olfactory system upon inhalation and target the amygdala, the emotional center of the brain," says holistic wellness practitioner Valerie Oud, Director of Vibrational Healing at THE WELL. Oud adds that treatment providers have used oils to target symptoms related to stress, anxiety and sleep issues, like insomnia, as well as inflammation.
While oils have been used in holistic treatments, they are not a cure-all — and it's hard to find science to back up most claims on their benefits. A lack of conclusive data is likely why essential oils aren't regulated by the FDA. More often than not, you'll need to work with an expert to source and pinpoint the best oils for your needs, after you've discussed essential oil use with your primary care provider.
"The last thing you want to do is buy an essential oil that you later find has been laced with artificial coloring or flavorings," says physician Ruvini Wijetilaka, M.D., an internal medicine specialist with Parsley Health. "You'll want to make sure that you can clearly read the ingredient list — the Latin name of the oil should be on there, and it should be free of any chemicals or synthetics."
If you've pinpointed a sensitivity to essential oils with your doctor, most experts recommend diluting the oils every time you use them in order to reap the benefits without leading to irritation. To dilute an essential oil, mix it with a few drops of almond oil (or jojoba oil) — about three drops of carrier oil to every drop of essential oil. You can add this mixture to a diffuser of your choice.
Editor's Note: Essential oils are known to be irritating to some individuals due to their highly concentrated nature and have the potential to trigger severe skin irritation, burn, or reaction, amid other immune responses. They may cause respiratory issues if inhaled without a diluter, and commonly, the oil itself could cause rashes on the skin. Oil use in proximity to pets and young children isn't recommended, since it could easily aggravate sensitive skin and respiratory airways.
Anxiety and anxious feelings can't always be resolved on your own. It's crucial that you seek out a professional treatment option if anxious feelings have made it impossible to carry out your day — a therapist or licensed mental healthcare provider can help you resolve any symptoms.
1
Best Overall Essential Oil for Anxiety
Lavender Essential Oil
Public Goods
publicgoods.com
$13.00
"I use lavender oil for anxiety for both myself and my patients; it really helps!" says naturopathic doctor Serena Ma, ND, MS, LAc, who operates an independent practice in the New York City area. "I sometimes suggest that my clients diffuse some oils in their bedroom or in a bath."
Public Goods uses therapeutic-grade lavender essential oil equipped with a dropper for easy use. A comprehensive research study did a deep dive into lavender's benefits for stress and anxiety, and found that multiple animal and human studies suggested inhaling lavender calmed the nervous system and generally worked incredibly well as a mood stabilizer.
Lavender blend backed by strong research
Therapeutic-grade oil
2
Best Scented Essential Oil
Vetiver Essential Oil
Helias
heliasoils.com
$20.00
Historically used as an all-natural anxiety medicine in South Asia and sparsely elsewhere, vetiver oil has a rich, smokey scent that was found to reduce anxiety symptoms in an animal study conducted in 2015. Oud recommends this brand because the product consists solely of a pure oil blend, sourced responsibly from China.
Pure-blend essential oil (singular ingredient)
Unique aromatic profile
Requires a carrier oil or diffuser
Potent odor may trigger sensitivities
3
Best Budget Essential Oil
Sweet Orange Essential Oil
Plant Therapy
amazon.com
$6.95
Despite its low price tag amid this list, every bottle of this uplifting essential oil is equipped with a GC/MS (gas chromatography-mass spectrometry) report that authenticates the quality of its contents. It's used to determine the quality of the essential oils by using biochemistry to distinguish between the compounds found in the oil.
The product also contains explicit instructions for dilution for best results, a key feature for those who haven't used essential oil before, Oud says. "Essential oils should be used with a carrier oil such as jojoba or sweet almond oil," she adds. "You can also add a drop to unscented lotion, as a little goes a long way… If you'd like to use essential oils in the bath, add to the salts first, mix well and then add the salt blend to your bath."
Clear instructions for first time oil users
Doesn't include organic sources of oil
Too potent to be used without dilution
4
Most Popular Essential Oil for Anxiety
Rose Essential Oil
RAINBOW ABBY
amazon.com
$7.50
One of Amazon's most popular oils among shoppers, this floral essential oil is derived entirely from fresh rose petals for a relaxing scent that'll transport you directly to the spa. It's unadulterated, affordable and sourced organically. After all, rose essential oils have been suggested to reduce the most common symptoms of anxiety, including high blood pressure, high heart rate, quick breathing, high cortisol levels and low blood oxygen levels.
Organically sourced
100% pure oil
Must be diluted before use
5
Best Travel-Friendly Essential Oil
Relax Ritual Oil
The Well
the-well.com
$20.00
THE WELL's oil blend infuses carrier oils including sweet almond and avocado with essential oils like ylang-ylang and lavender to create an option you can tote around for whenever you need a quick hit of calm. As part of the brand behind this product, Oud has previously advised customers to place a single drop of the oil in their palm before rubbing both hands together and cupping them near their face. "Take a gentle breath in and a long exhale out and allow it to help you to reset," she advises.
Packaging is engineered to boost aroma quality by blocking UV rays
Can be used sparingly without diffuser or carrier oil
Strong odor due to blend composition
6
Most Luxurious Essential Oil
Serenity Essential Oil
doTERRA
amazon.com
$36.45
Dr. Wijetilaka sources products from the doTERRA brand due to their quality control standards. "They have such a rigid testing process that examines every batch of oil along with third-party testing to ensure that you're getting the purest oil possible," she explains. "This blend of lavender, ylang-ylang, chamomile, and so much more creates a soothing concoction that'll definitely keep you serene — making sure the oil stays true to its name."
Proprietary blend engineered for relaxation effects
Rigorous quality control standards
Priciest among market picks
Complex odor profile may trigger olfactory sensitivities
7
Best Roll-On Essential Oil
Peppermint Halo Essential Oil Blend
Saje Natural Wellness
amazon.com
$27.95
If you can't be bothered with finding a diffuser or carrier oil, this roll-on option is for you. Dr. Wijetilaka recommends this oil to clients who suffer from anxiety headaches, as they can simply roll it onto their pulse points (and let the aroma linger over time) and feel their tensions fade away.
A single oil profile for those with sensitive olfactory reflexes
Can be used without a diffuser or carrier oil blend
High price point
Includes other ingredients beyond essential oil
8
Trendiest Essential Oil for Anxiety
Pure Frankincense Essential Oil
VITRUVI
amazon.com
$18.00
Gwyneth Paltrow is just one of the many celebs hooked into millennial favorite brand Vitruvi, which provides pure blends of a wide array of essential oils. "My favorite, frankincense, is a nervine, which means it has a relaxing effect on the nervous system. When you are more relaxed, you actually have more energy available in your system," explains Oud, who recommends this blend due to its commitment to transparent sourcing.
Elevated price point for comparable market options
Requires a diffuser
This content is created and maintained by a third party, and imported onto this page to help users provide their email addresses. You may be able to find more information about this and similar content at piano.io
Source link