This website may contain affiliate links and advertising so that we can provide recipes to you. Read my privacy policy.
Baked bananas are deliciously sweet with a touch of cinnamon and honey! They are baked to perfection and I love nothing more than a dessert that's easy AND made with fruit!
These bananas are the perfect dessert, breakfast, or even an after-school snack. For more ways to try out some ripe bananas, some of my favorites tried and true recipes are these Cupcakes, Brownies, and these yummy Banana Muffins! You MUST try them all!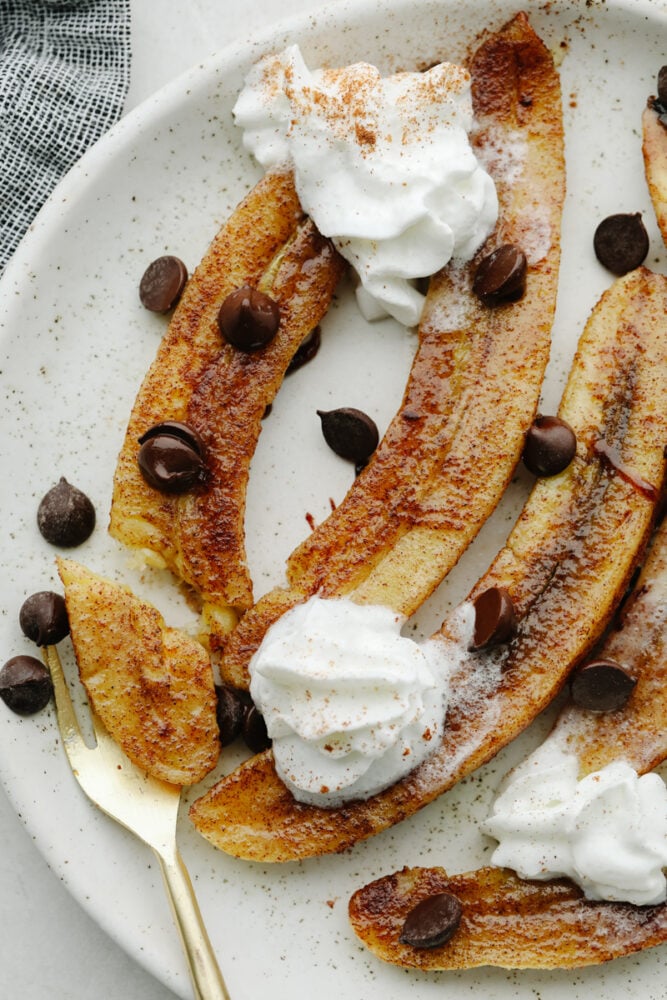 MUST Try Baked Bananas
I love recipes with bananas in them. Once they ripen and get extra sweet, there are SO many options on what to do with them! And this one is literally the easiest of them all. And hands down one of the best! Baked bananas are so sweet and creamy! They come out of the oven all warm and delicious. And then I top them with whipped cream that melts immediately and… well… You've got yourself a mouthwatering snack that just melts away in your mouth!
Because bananas are naturally sweet, you don't need to add a lot to them to make them taste delicious. Plus, bananas are a great source of potassium so you can eat something tasty AND get a health benefit from it! It's a win-win. These bananas are delicious on their own but add them to some ice cream or brownies and these will be next-level delicious! They are a MUST try!
What's in Baked Bananas?
Yummy baked bananas only have 4 ingredients! Then, you can make them totally your own by changing up the toppings or adding them to another dessert! See the recipe card below for a list of exact measurements!
Bananas: When using your bananas for this recipe, make sure they are ripe. The peel should be yellow with a few brown spots!
Butter: Melt your butter befrehand so that it can be drizzled across the bananas!
Honey: The honey adds in a bit of healthy natural sweetness.
Cinnamon: The cinnamon adds just the right touch of flavoring that complement the banana flavor!
Chocolate chips and whipping cream: These toppings are completely optional. In fact, change these up and you will have your own unique recipe!
How to Bake Bananas
This recipe takes about 20 minutes from start to finish! And that includes 15 minutes of baking time! This is why this is such a great snack to make when you want something delicious but you don't have a lot of time.
Prep and cut: Preheat the oven to 350 degrees. Cut the banana in half and lay in a 9×13 inch baking dish.
Combine and spread: Combine melted butter, honey and cinnamon and evenly spread onto the tops of the bananas.
Bake and serve: Bake for 15 minutes until they are as soft as you would like them. Serve with optional toppings.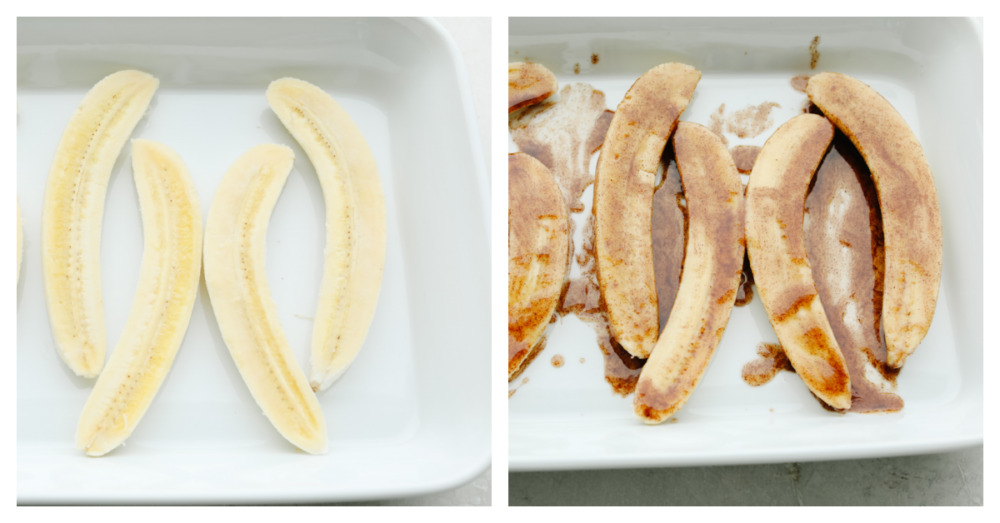 Stages of a Banana
Bananas have a few different tastes depending on when you eat them in the ripening process! Here are a few tips to understand bananas that will help you know what to use in this baked banana recipe.
Green bananas: Green bananas are firm and not sweet. Put these on your counter and wait for them to ripen.
Yellow bananas: These are perfect for eating on their own. They are firm but getting sweeter by the day.
Yellow and bananas with some brown spots: These will be your baking bananas! They are very sweet but not too mushy.
Brown Bananas: These work great in smoothies or in a recipe that calls for mashed bananas. (Like banana bread)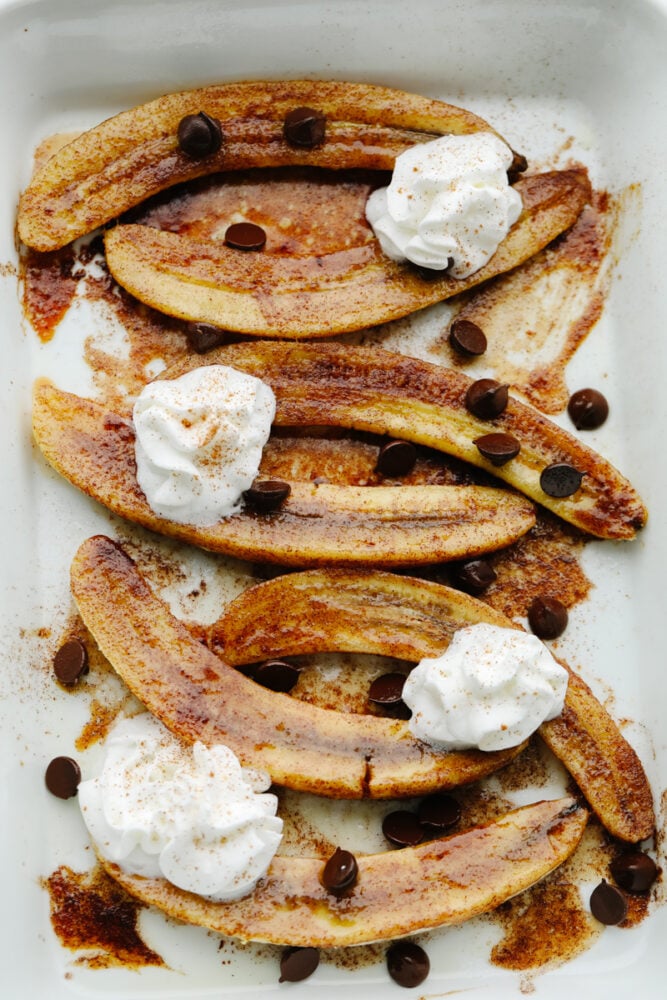 Adding Toppings
You can easily change up this recipe, just by changing up the toppings! Here is a list of a few favorites to put on these baked bananas after you pull them out of the oven!
Nuts: I love adding sliced almonds or walnuts to these to add a little bit of a crunch.
Sprinkles: My kids love it when I add anything colorful to a meal. So rainbow sprinkles really make this fun for them to eat!
Ice Cream: Add some ice cream on top of these baked bananas and it will be the best banana split that you've ever had!
Brownies: Bake some brownies beforehand and have them ready to be topped with these baked bananas. You cant go wrong with a chocolately banana taste!
Toffee bits: Once you've added the chocolate chips and whipped cream, then sprinkle on some bits of toffee! My mouth waters just thinking of this!
Crepes: While these are baking in the oven, then you can be making some crepes! Then, when these are finished you can add them into the crepe and top them with the whipped cream and chocolate chips. In fact, this is so yummy that you can use it as a breakfast meal!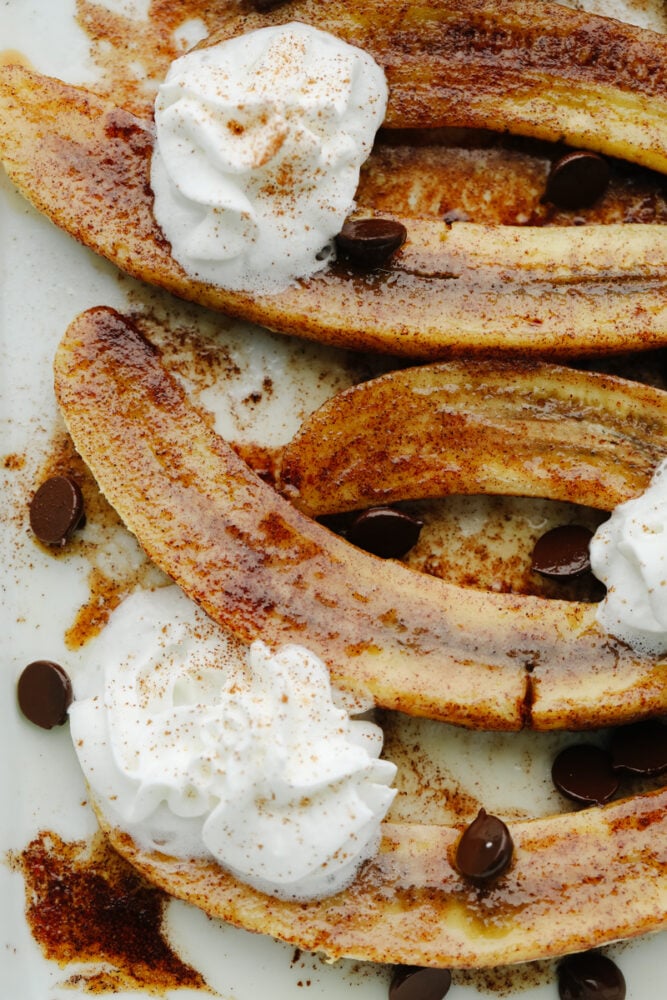 Freezing Bananas
These baked bananas are best to be baked fresh. However, you can freeze the bananas that you have on hand and make this recipe later!
Slice: Slice the bananas in half, lengthwise.
Fast freeze: Line your bananas up on a baking tray that is lined with parchment paper and freeze them for 2-3 hours or until they are frozen solid. This step will make it so they don't turn brown when you are freezing them!
Airtight container: Take your bananas out and then put them in a ziplock bag but don't everlap them! Seal it up tight!
Label and freeze: Label the bag with the date lay them flat in your freezer. They can last up to 3 months frozen.
Thaw and bake: When you are ready to use them, place them on a plate in your fridge to thaw. Then use them to bake!
---
Preheat the oven to 350 degrees. Cut the banana in half and lay in a 9×13 inch baking dish.

Combine melted butter, honey and cinnamon and evenly spread onto the tops of the bananas.

Bake for 15 minutes until they are as soft as you would like them. Serve with optional toppings.
---
---
Serves:
All nutritional information is based on third party calculations and is only an estimate. Each recipe and nutritional value will vary depending on the brands you use, measuring methods and portion sizes per household.