This website may contain affiliate links and advertising so that we can provide recipes to you. Read my privacy policy.
These foil pack grilled vegetables made with Reynolds Wrap® Heavy Duty Foil are perfect for BBQ season! They cook just right on your grill and come out tender and seasoned to perfection. This is one side dish that you don't want to miss!
If you are itching to get a head start on grilling like I am, then I have some of my favorites that you can start with to kick off the season! Try out this BBQ Chicken (hint: it uses the best homemade BBQ sauce)! Or, start the summer with this yummy shrimp!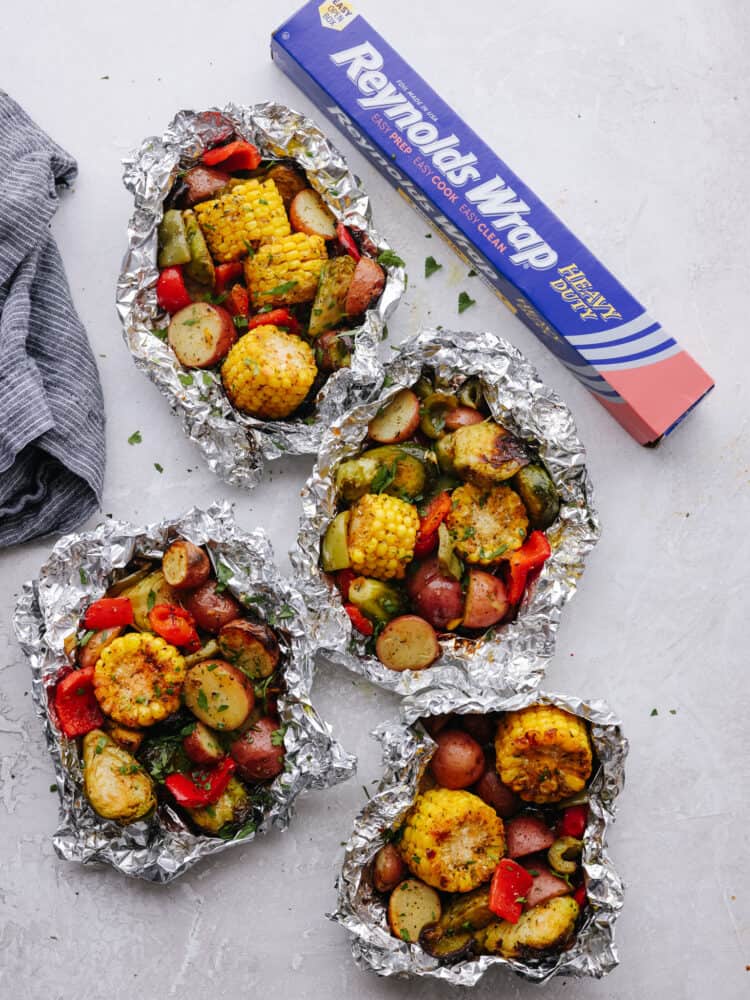 Reynolds Wrap® Foil Pack Grilled Vegetables
I cannot tell you how excited I am that I get to partner with Reynolds Wrap® for this recipe! Grilling season is almost upon us, and you know I wouldn't let you start it without a staple recipe for you to use all summer long! These Foil Pack Grilled Vegetables are made using Reynolds Wrap® Heavy Duty Foil and they are so good. The combination of veggies is not only colorful but it's insanely delicious. Plus, the combo goes well with just about any main dish! This is a perk of foil packet recipes; they are a must during the summer season!
I love using Reynolds Wrap® Heavy Duty Foil when I am cooking on the grill because it is thick and durable enough to hold all of my food! The last thing that I want to happen is for the foil to tear and have all of my food spill on the ground. Trust me, after you try out how delicious these vegetables are then you do not want to waste a single one! Corn, Brussel sprouts, peppers, and potatoes, are all mixed together with a special homemade seasoning mix… I know that once you try this you are going to want to make it with every single meal this season!
Ingredients for Foil Pack Grilled Vegetables
If you are a fan of tender, delicious, and perfectly seasoned vegetables then this recipe is for you! When I use Reynolds Wrap® Heavy Duty Foil, it helps achieve that tender texture with a slightly crispy and browned outside. The perfect marriage of textures if you ask me! Plus, using foil for these veggies makes the clean-up a breeze! Check out the recipe card at the bottom of the post for all of the exact measurements.
Vegetables
Red and Green Bell Peppers: Cut your peppers up into one inch pieces. You can use yellow and orange peppers too if you love peppers like I do!
Brussels Sprouts: Slice your Brussels sprouts in half so that you can have some in every single bite!
Corn on the Cob: Take each cob and cut it into four pieces.
Baby Potatoes: These get slightly browned on the outside and the soft texture blends so well with the other ingredients.
Olive Oil: This will be used to drizzle on top of the vegetables. It helps all of the seasonings stick to the vegetables!
Seasonings
Italian Seasoning: You can buy this at the store but I think making it at home using this recipe gives it the best taste!
Garlic Powder: The garlic flavor pairs so well with the Italian seasoning!
Paprika: This slightly sweet and peppery taste is unique and delightful on vegetables.
Chili Powder: If you want your vegetables to have a little bit more heat then add an extra pinch of chili powder.
Salt and Pepper: These will enhance all of the flavors of the ingredients in this recipe.
Reynolds Wrap® Heavy Duty Foil: This foil is my favorite to use because it can handle the weight of the vegetables without tearing. It also is thick enough that it traps the heat in while giving your vegetables a fantastic texture!
Let's Grill Some Vegetables!
This recipe is about to become your new favorite because it's quick, easy, and delicious! These foil pack grilled vegetables will go with just about anything and it makes the perfect side dish. And, if you weren't a vegetable lover before now, then this recipe will make you one!
Preheat grill and prep vegetables: Preheat your grill to medium-high heat. In a large bowl combine the bell pepper, Brussels sprouts, corn, and baby potatoes. Add the olive oil, Italian seasoning, garlic powder, paprika, chili powder, salt, and pepper. Stir to combine.
Form a packet with the foil: Tear off four sheets of Reynolds Wrap® Heavy Duty Foil – about 16″ in length. Divide the vegetables and place in the center of each sheet of foil and fold up on the long sides of the foil until the edges meet over the food. Then double seal all edges so it forms a packet.
Cook: Add to the grill and cook for 20-25 minutes or until vegetables are tender.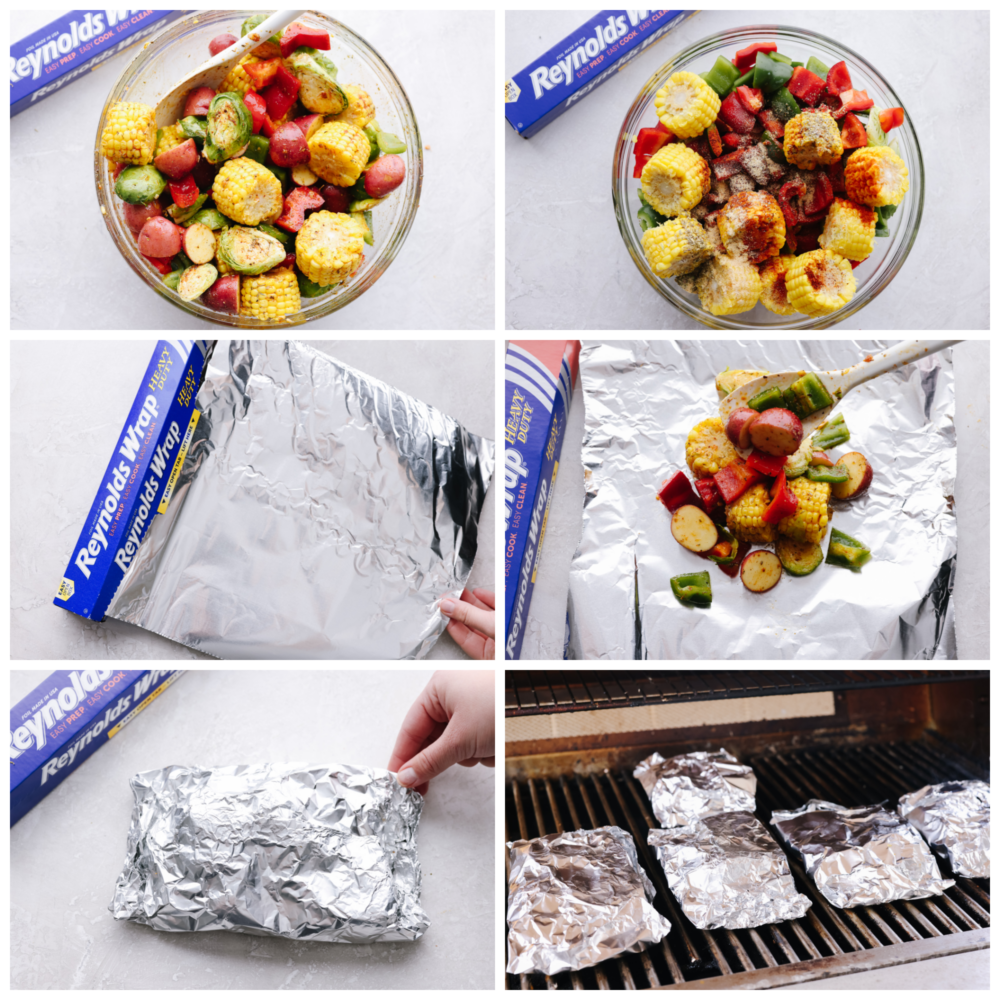 No Grill? No Problem!
Preheat your oven to 375° F. Place the foil packets on a sheet pan and bake them for 20-25 minutes. Unwrap the foil packs and broil on high for 2-3 minutes if you want the vegetables crisp on top.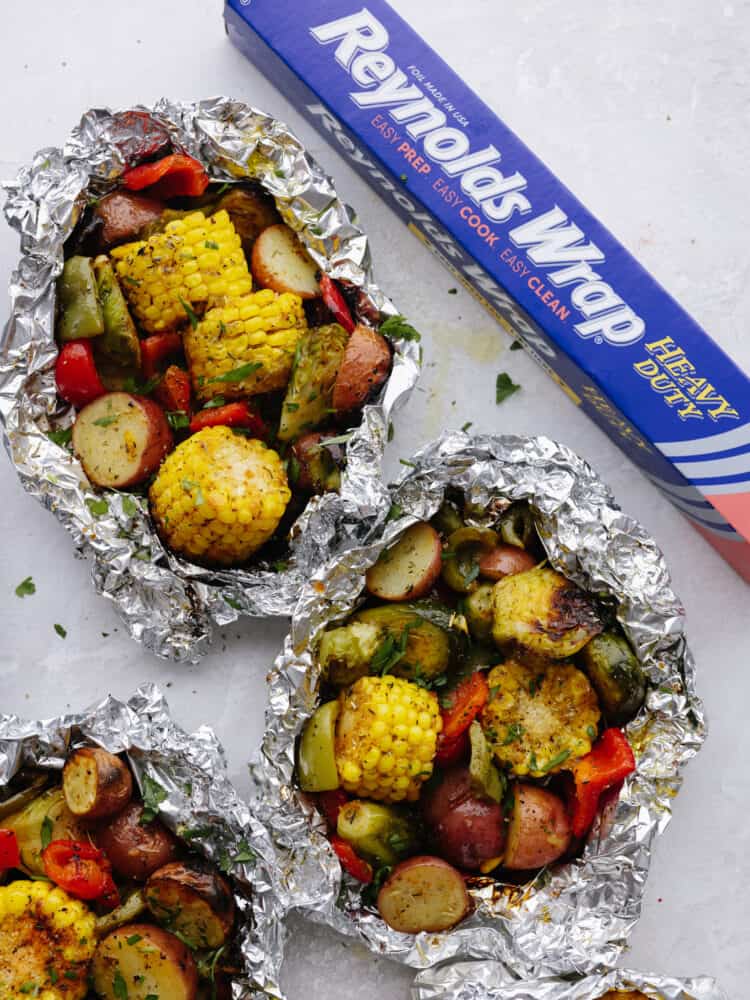 I always choose to use Reynolds Wrap® Heavy Duty Foil in my grilling recipes because it's the best of the best! You can't beat its durability and dependability. It makes it so that my food, like these foil grilled vegetables, turns out delicious and perfectly cooked every single time!
Durable: This foil is tough and durable, which is perfect for cooking heavier foods since you don't have to worry about ripping or tearing. 
Large Size: You know I love cooking on the grill! This Reynolds Wrap® Heavy Duty Foil is also available in a wider 18-inch roll, which is great for larger foil packets and large cuts of meat to throw on the grill. 
Made in the USA: Reynolds Wrap® is proudly made in the U.S.A. (Louisville, KY!) and is celebrating its 75th anniversary this year. 
Easy Storage: Reynolds Wrap® now has a better box that is easier to open and a tab that keeps the box fully closed for storing after use.  
Cleanup is a breeze! Reynolds Wrap® Heavy Duty Foil helps make prepping, cooking, and clean-up easier so I can spend more time with my family.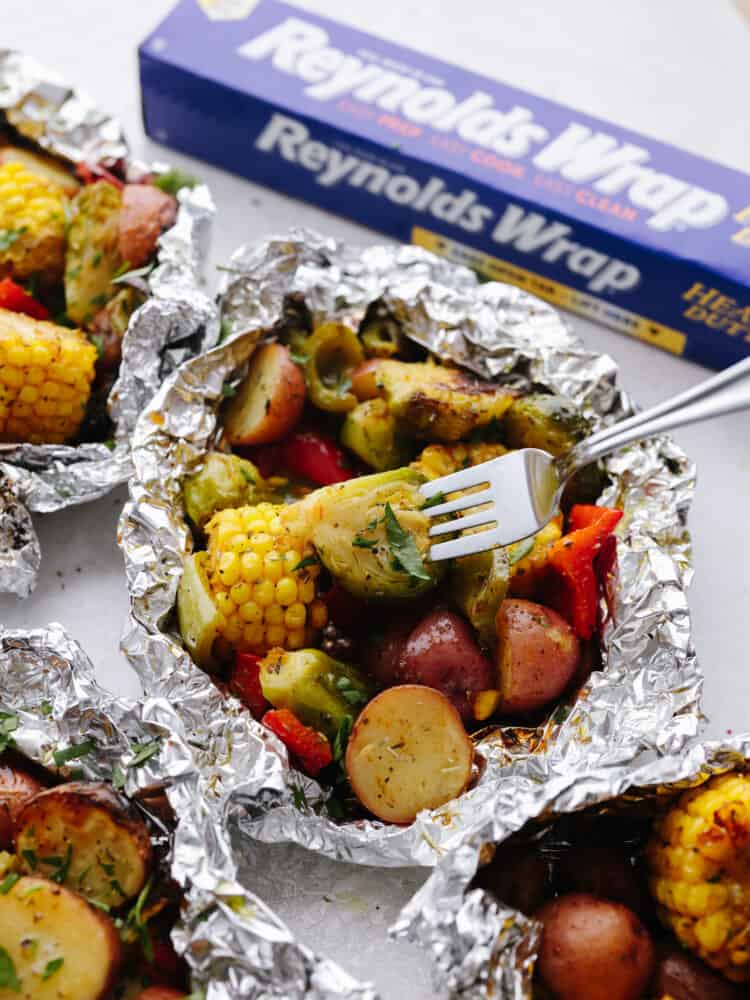 Quick Tips
Cooking on the grill is so much fun because you get to enjoy delicious food while basking in the great outdoors! Here are a few tips that will help your foil grilled vegetables turn out just right!
Size: When you are cutting up your vegetables, it's important that they are all similar in size. This helps them to cook evenly and then they will be done at the same time!
How to eat it: I personally like to eat my vegetables straight off of the foil! Then, they stay nice and warm the entire time I am eating plus, when am finished, I can just throw my Reynolds Wrap® Heavy Foil straight into the garbage. It makes cleanup so easy!
Protien: If you want to toss in some cubed chicken with your vegetables then you can elevate this from a side dish to the main dish! Everything will all be taken care of at once!
---
---
Oven Directions:
Preheat oven to 375 degrees. Place the foil packets on a sheet pan and bake for 20-25 minutes. Unwrap the foil packs and broil on high for 2-3 minutes if you want the vegetables crisp on top.
---
Serves: 5
Calories165kcal (8%)Carbohydrates28g (9%)Protein5g (10%)Fat6g (9%)Saturated Fat1g (5%)Polyunsaturated Fat1gMonounsaturated Fat4gTrans Fat1gSodium217mg (9%)Potassium659mg (19%)Fiber5g (20%)Sugar5g (6%)Vitamin A1229IU (25%)Vitamin C84mg (102%)Calcium41mg (4%)Iron2mg (11%)
All nutritional information is based on third party calculations and is only an estimate. Each recipe and nutritional value will vary depending on the brands you use, measuring methods and portion sizes per household.