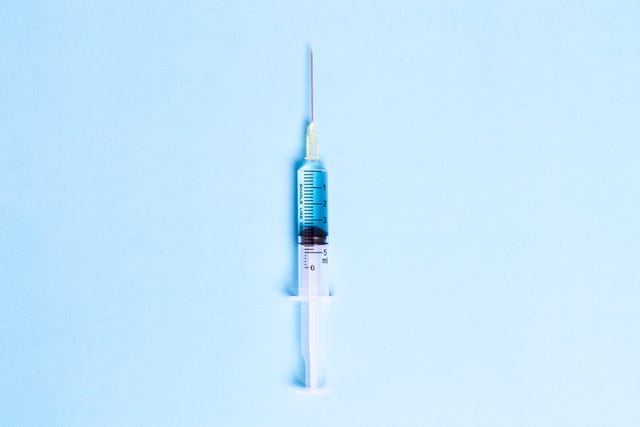 Veerapong Boonporn / EyeEm
We've watched as the first waves of COVID-19 vaccines have been administered to frontline health workers and essential personnel, and in some states, to elderly residents. For most, actually understanding when they're able to sign up to get a shot to protect against coronavirus risks is confusing; each state is working to model their own vaccine rollouts based on recommendations from the Centers for Disease Control and Prevention. But each state's rollout, and demand, has been drastically different. Some states are already into what's considered phase 1c, where non-medical essential workers and those above the age of 55 are able to receive a shot, whereas others haven't gone much further than phase 1a, still vaccinating healthcare workers on the frontlines.
There are a few key vaccine rollout issues that have been made apparent in sweeping reports, including this one from Time: Namely, each state has received a limited supply for healthcare workers to handle, and coordinating a timely vaccination schedule isn't as simple as government officials predicted. Some states are failing to communicate with local healthcare clinics and hospitals about when they'll be able to offer a vaccine to at-risk individuals, and in states where a pre-screen or pre-registration is required to make an appointment, many websites are breaking and causing headaches for everyone involved.
Understanding when to ask for a COVID-19 vaccine is tricky enough, but knowing where to go to register for an appointment is also proving to be troublesome. Per data illustrated by Bloomberg, there are nearly 33 million Americans who have received one shot so far. But in January, President Biden's administration began encouraging state vaccination boards to begin immunizing those above the age of 65 and those older than 16 with pre-existing conditions that put them at higher risk for COVID-19 complications. While it's up to each state to make final decisions about who is receiving vaccines this month, that direction may have bumped you up in line sooner than you may think.
The information below has been partly sourced from local state health departments, CDC resources available to residents, and information directed at senior citizens compiled by AARP (American Association of Retired Persons). The information below is current as of February 8. We'll continue to update this guide with new information as it becomes available, but due to the emerging nature of vaccine rollouts across the country, some of the data in this report may be out of date.
If you're hoping to learn if you're eligible to make an appointment for a vaccine — or, if you're wondering where you currently fall in line for a shot — it's best to inquire with your state directly. While it may ultimately be your primary care provider who asks you to come in for a vaccine shot, certain clinics or hospitals may not be aware of your pre-existing conditions, employment, age, or another factor that can determine your eligibility. If your state's appointment availability is full up, don't despair: You may still be eligible to receive a vaccine at a private clinic or pharmacy, like CVS, or even in-store locations at Walmart and local grocers. Check your state's full list of approved vaccinators to ensure you're aware of every option.
Below, we're rounding up where you may be able to get clear information on getting a COVID-19 vaccine. We'll continue to update this directory with more information as it becomes available.
Click on your state to be redirected to the most up-to-date information: AK | AL | AR | AZ | CA | CO | CT | DE | FL | GA | HI | ID | IL | IN | IA | KS | KY | LA | ME | MD | MA | MI | MN | MS | MO | MT | NE | NV | NH | NJ | NM | NY | NC | ND | OH | OK | OR | PA | RI | SC | SD | TN | TX | UT | VA | VT
WA | WV | WI | WY
Alabama
Alaska
Arkansas
Arizona
California
Colorado
Connecticut
Delaware
Florida
Georgia
Hawaii
Idaho
Illinois
Indiana
Iowa
Kansas
Kentucky
Louisiana
Maine
Maryland
Massachusetts
Michigan
Minnesota
Mississippi
Missouri
Montana
Nebraska
Nevada
New Hampshire
New Jersey
New Mexico
New York
North Carolina
North Dakota
Ohio
Oklahoma
Oregon
Pennsylvania
Rhode Island:
South Carolina
South Dakota
Tennessee
Texas
Utah
Vermont
Virginia
Washington
West Virginia
Wisconsin
Wyoming
This content is created and maintained by a third party, and imported onto this page to help users provide their email addresses. You may be able to find more information about this and similar content at piano.io
Source link