Education
More Out-of-State Students Don't Bring Colleges Higher Tuition Revenue, Study Finds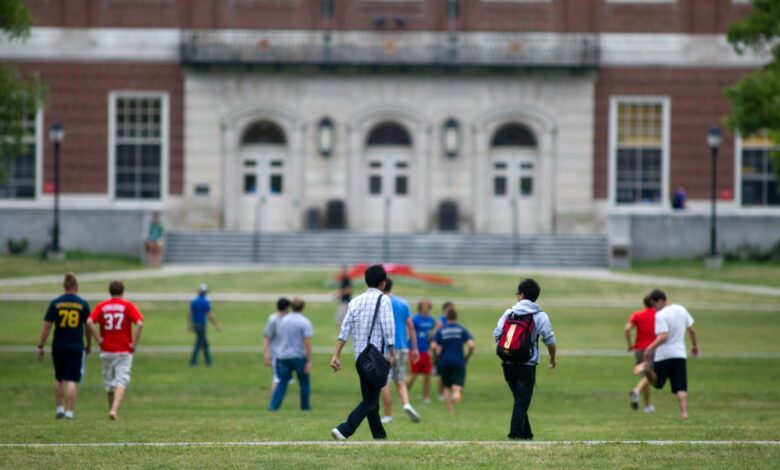 Public colleges' finances have been hurting for decades. Their state governments have funded smaller portions of their budgets, while limiting how much they could raise tuition. Some struggling institutions have neglected building repairs, laid off staff members, eliminated academic departments, and kept salaries flat as a result.
To offset some of the pain, many of those institutions have aggressively recruited and enrolled out-of-state students, whose sticker-price tuition is higher than that of their in-state peers. Logic would suggest that more students paying higher prices results in more revenue and spending.
But a recent study found that that is not so. Robert Kelchen, a professor of higher education at the University of Tennessee at Knoxville, used Department of Education data to study revenue and expenditures at public four-year universities that increased their shares of nonresident students. He found that an increase in out-of-state students was associated with a decrease in per-student tuition revenue and "is often associated with" a decrease in student expenditures.
"Getting more out-of-state students," Kelchen said in an interview, "doesn't necessarily mean that colleges are bringing a lot more money in."
The results varied by institution type in the study, just published in the Journal of Postsecondary Student Success. More-selective colleges saw a decrease in revenue and per-student expenditure when they enrolled more out-of-state students, while less-selective colleges saw no difference in revenue or student expenditures when they did the same.
The findings are important, Kelchen wrote, because increasing out-of-state enrollment can have other costs. Earlier studies he cited have shown that "increases in nonresident enrollment squeeze out in-state students from traditionally underrepresented backgrounds," particularly at more-selective institutions. Further, enrolling more nonresident students does not tend to lower tuition for in-state students. Kelchen's new findings mean that "in-state students did not directly benefit from additional out-of-state students," he wrote.
It's possible, Kelchen wrote, that increasing out-of-state students did not coincide with more revenue for universities because many of those students are not actually paying sticker-price out-of-state tuition. Many colleges now participate in regional tuition exchanges — agreements among neighboring states that allow students to pay in-state tuition at a college in the state next door. Some colleges offer tuition discounts to certain out-of-state students to entice them to come. The University of Maine at Orono, for example, allows some students who are not from Maine to pay the flagship's in-state tuition rates.
Less-selective institutions are not necessarily squeezing out in-state students by recruiting elsewhere, Kelchen said. In states like Maine the high–school student population is declining, so out-of-state students may help stem what would otherwise be a drop in college enrollment. But Kelchen's study shows that the presence of those non-Mainers does not necessarily mean that the university gained revenue.
Some institutions "might still be in a better place because of out-of-state students," Kelchen said. "They might be plugging a gap, but they aren't gaining."
More research is necessary, including interviews with campus leaders and admissions and enrollment managers, to understand the relationships he found, Kelchen said.
Source link