Greetings and salutations, friend! Happy Caturday morning.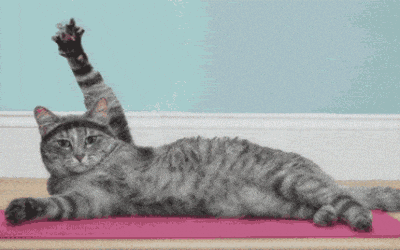 I hope things are going well so far. Out here in Novato, we're starting the day with some reading, because I'm all about reading first thing in the morning on the weekend.
Sometimes it's digital (see below), and sometimes it's old-school magazines (see above), but this morning it's going to be me, tea and the three home decor magazines at the top.
Speaking of home decor…what do you think of these floors? I'm still doing flooring research as part of Project New Floors Spring 2021, and I'm currently waffling between dark and light luxury plank vinyl.
The part of me that loves traditional style wants darker floors, but the practical side of me that knows what how hard it is to keep dark floors looking clean says, GO TO THE LIGHT, CAROL ANNE.
I feel like I should strike while the iron's hot, a.k.a. while I'm feeling sensible, and commit to the light floors already!
This weekend's reading…
And some things to watch…
I want that kitteh.
I love the Amanda Uprichard Dress and the Free People Top.
It's only a papermoon.
10 minutes, I'm into it.
Chanel, ooh la la
What do you have going on this weekend? Other than reading the aforementioned magazines on the couch with Rosie and enjoying breakfast (scrambled eggs, Portuguese sausage and a chocolate croissant), Connor has a play date at a local park with a friend, and I'm already thinking about how many times I'm going to say, "OK, five more minutes and we're leaving!" HAHAHA!
Your friendly neighborhood beauty addict,
Karen
Source link