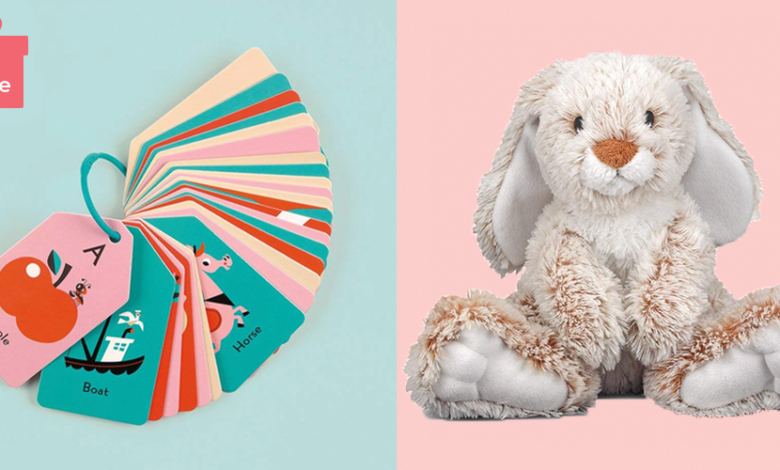 First comes the Easter egg hunt, then comes festive treats and a gift basket filled with cheer. When looking for Easter gifts for toddlers, you want to make sure all toys are age appropriate, safe, and fun. This could be a challenge, but if you're stuck, here are top-rated Easter toys and gifts that toddler boys and girls can enjoy.
These bunny-themed games, best-performing outdoor toys, Easter puzzles, and cute outfits are perfect for the 4-and-under crowd — and they won't break the bank either. And if you're entertaining more than just toddlers on Easter day, don't miss our favorite festive picks for babies and older kids as well.
1
Learning Toy for Three-Year-Olds
My ABC's Flash Cards
Mudpuppy
amazon.com
$12.99
Help her practice her ABC's with this laminated learning game. You can open and close the ring to reorganize the cards for more challenging fun.  
2
Toomies Hide & Squeak Eggs
3
Hide & Squeak Eggstension Nesting Eggs Toy
And this is a fun extension of the Hide & Squeak toy, where your toddler can assemble, match, and learn her colors while playing with these fun egg shells. They can even be brought into the bath as pouring cups. Ages 6 months +
4
Makes a Fun Easter Activity Too
The Great Big Easter Egg Coloring Book
Green Light Go
amazon.com
$4.95
If they're still young to dye eggs, simply coloring books like this one let toddlers join in on Easter craft time too. Its contains 50 pages of non-intricate patterns and extra thick lines for easy coloring. Just don't forget the crayons! Ages 1+
5
Educational Toys for Toddlers
Spike The Fine Motor Hedgehog
Learning Resources
amazon.com
These hedgehog spikes are hard plastic, friendly quills that little hands can easily grasp and count. Our Parenting experts also recommend this as an excellent sensory toy for kids with special needs. Ages 18 months + 

6
Easter Book for Toddlers
The Itsy Bitsy Bunny
LITTLE SIMON
amazon.com
$5.68
A twist on the classic nursery rhyme Itsy Bitsy Spider, this baby book swaps out spiders for the adventures of a bunny. Ages 2+
7
Storytime Buddy
LeapFrog
amazon.com
$34.72
Your 4-year-old can press on any of the colorful buttons to practice her colors, numbers, or ABC's, or even let her puppy buddy play a tune or tell a story. He even comes with a light-up collar that serves as a comforting nightlight. Ages 2+
8
Musical Drumfish
This colorful fish will keep the little one entertained for hours — he can tap on its belly or fins to make quirky musical sounds. He can also shake the fish like a maraca, thanks to the wooden beads inside. Ages 2+
9
Animal Peg Puzzle Bundle
Melissa & Doug
amazon.com
$22.99
This set comes in a pack of three: sea creatures, farm animals, and pets, so you can break them up among multiple Easter baskets. The classic, wooden peg piece style keeps the game educational and entertaining. Ages 2+ 
10
My First Number Train
Kids build the train on their own, promoting their motor and thinking skills. It also helps them practice their numbers and encourages imaginative play. Ages 2+ 
11
Ride-on and Trike
Radio Flyer
walmart.com
$39.99
Kick the pedals in for a ride-on experience, or flip them out for tricycle mode. The curved seat and extra-wide wheels provide for a smoother ride. Ages 1+ 
12
Cute Basket Stuffer Idea
Wooden Percussion Musical Egg Maracas
Pop them in Easter baskets for a musical surprise. Made with non-toxic paint and decorated with fun spring patterns, these little egg maracas are fun to shake and make music with. Ages 3+  
13
Under the Sea Reusable Pad
Melissa & Doug
amazon.com
$5.99
Little ones draw and color on reusable white pages in this activity pad, then use the included magic water pen to see the pages come to life! Ages 3+ 
14
Inexpensive Toy Option
Baby Shark Song Cube
Sorry, but Baby Shark isn't going out of style for a while. This plush sings one of four versions of Baby Shark every time you squeeze it. Ages 2+
15
Scribble Scrubbie
The Scribble Scrubbie holds a Good Housekeeping Toy Award title for good reason. Using the included markers, scrub brush, and tub, kids can draw all over these two fuzzy figurines and rinse them off to start over again. Ages 3+
16
Burrow Bunny Rabbit
Melissa & Doug
amazon.com
An Easter basket isn't complete without at least one bunny-themed item. Handcrafted with soft polyester, this bunny makes the perfect sidekick. Ages 3+
17
Hopscotch Rabbit Family
Calico Critters
amazon.com
Introduce them to one of your own childhood favorites from the Calico Critter village. The Hopscotch Rabbit family miniature set can be played with alone or pair with others from the brand. Ages 3+ 
18
Farm World Toy Play Set
Schleich
amazon.com
$9.99
Each of these plastic figures is hand-painted, making them super realistic. Tiny animal lovers can dream up their own adventures for these three little pigs. Ages 3+
19
Boy's Boat Shoes
See Kai Run
amazon.com
$40.00
Featuring a low arch and easy velcro strap, these boat shoes match any Easter outfit. They also come in navy and khaki.
20
Easter Gift for Boys
Mini Racers Variety Pack
Disney Cars Toys
amazon.com
$19.99
Cars fans can trade, collect, and play with their favorite characters on Easter day. This set comes with 10 cars, so you can plop one or two in each basket. Ages 3+
21
Bunny Backpack
She will need a bag to bring home all her Easter eggs and toys she collected during the egg hunt. The plush bunny actually comes right off the bag for even more fun.
22
Ultimate Rescue Marshall's Mini Fire Cart
Paw Patrol
amazon.com
$9.84
Add some PAW Patrol fun to any basket with Marshall's fire truck. The ladder lifts and lowers and has a moveable hose ready to handle any mission. Ages 3+ 
23
Waffle Time Food Set
Learning Resources
amazon.com
$23.95
Kids can help "prep" Easter brunch with this waffle maker that comes with all inclusive waffle maker. It comes complete with syrup, plates, play food and even forks. 18 months+
24
Oxford Shirt
The Children's Place
amazon.com
$7.47
Paired with some navy or khaki shorts, your little one will look all dapper for Easter day. The shirt also comes in white.
25
Girl's Ballerina Flat Shoes
Felix & Flora
amazon.com
$19.99
These adorable Mary Janes come with rubber grip bottoms so your little girl won't slip. They also come in red, silver, gold, and pink.
This content is created and maintained by a third party, and imported onto this page to help users provide their email addresses. You may be able to find more information about this and similar content at piano.io
Source link