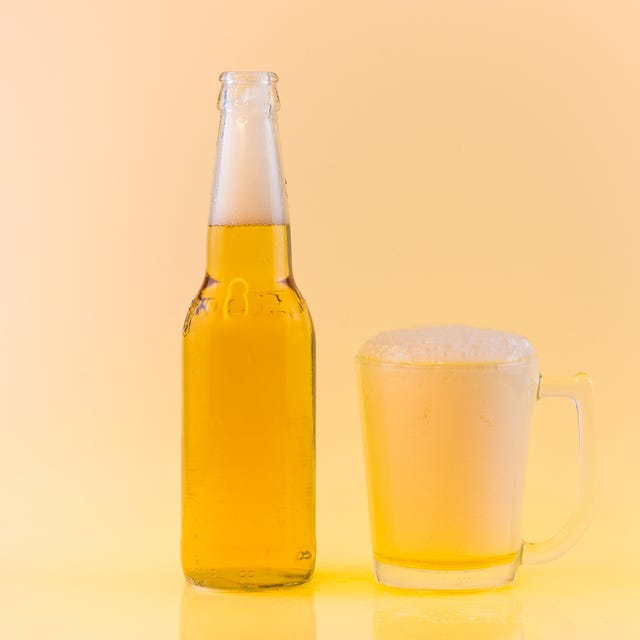 Getty Images: Nipol Plobmuang / EyeEm
If you're starting a new diet, you may also be considering cutting back on alcohol. But beer can still be a part of your new dietary routine. Light beers, in particular, are brewed to naturally cut most of the calories and carbs found in regular full-bodied ales — and some of the best low-calorie beers are still packed with unique flavors, despite the absence of those calories and carbs.
If you're on the Keto diet, you know that alcohol is largely out of the question per the plan's rules, but a light beer can be managed if you select one that's as close to 3g of net carbohydrates as possible, says author Lindsay Boyers, author of Keto Hacks: 200 Shortcuts to Make the Keto Diet Fit Your Lifestyle. While regular beers pack in upwards of 14g of carbohydrates per 12oz serving (a standard can or a bottle from a six-pack), light beers contain just half of that amount, and some can dip as low as 2g overall. And if you're wondering about added sugar, take note: "Most beers, low-carb or not, have 0g of sugar listed on its ingredient list…. Keep in mind that the natural fermentation process used to make beer may create some sugars as a byproduct," Boyers explains. "If sugar is listed, keep it under 1g per 12-ounce serving."
If you're trying to maintain ketosis, you may not want to include beer as part of your daily routine. Boyers recommends saving it for special occasions (Super Bowl Sunday, anyone?), as excess carbs and alcohol could send Keto dieters off ketosis completely — or hinder your Atkins efforts. "Not only can the carbs add up quickly, but beer also contains gluten, which can trigger inflammation and gut issues that make it more difficult to reach your health goals," she adds.
Here, you' ll find a list of the best light lagers to enjoy on any low-carb diet. Keto dieters might want to plan their party snacks carefully: "It's best to combine your keto-friendly beer with protein-rich foods, which delay stomach emptying and slow down the rate at which alcohol is absorbed," Boyers advises. So whip up one of your favorite Keto dishes and pop the top on one of these delicious low-carb beer options:
Advertisement – Continue Reading Below
1
Michelob Ultra Pure Gold
Michelob
drizly.com
$17.29
Carbs: 2.5g
Calories: 85 

ABV: 3.8%
This deliciously light beer has one of the best carb-to-alcohol ratios on this list. Low-carb dieters won't lose sleep over the 5g of carbs that two of these beers manage to sneak in.
2
Amstel Light
Carbs: 5g
Calories: 95

ABV: 3.5%
Far from bitter, Amstel Light fans are drawn to its naturally grainy flavor profile. Under 100 calories, it's a great addition to any keto-themed Super Bowl spread. 
3
Budweiser Select 55 Premium Light
Budweiser
drizly.com
$7.70
Carbs: 1.8g
Calories: 55
ABV: 2.4%
This uber light lager clocks in with the least amount of carbohydrates on this list. 
4
Beck's Premier Light
Carbs: 3.9g
Calories: 64
ABV: 2.3%
Beck's lighter variation is extremely low in calories and carbs combined. Depending on the setting or the meal, you may even be able to sneak in a second beer.
5
Yuengling Light Lager
Yuengling
drizly.com
$21.80
Carbs: 3.2g
Calories: 99
ABV: 3.8%
If you're a fan of traditional Yuengling (or any American brew), this brew does a great job keeping taste profiles as similar to its full-bodied beers. You'll still find a caramel-esque malt flavor profile here, despite the lack of carbs and calories. 
6
Miller 64 Extra Light Lager
Carbs: 2.4.g
Calories: 64
ABV: 2.8%
You'll definitely be able to enjoy more than one beer with Miller's ultra-refreshing lager. It packs in more of a buzz than other low-cal lagers on this list, despite being under 3g of net carbohydrates. 
7
Allagash Saison
Allagash
drizly.com
$11.79
Carbs: 4.8g
Calories.: 183
ABV: 6.1%
Likely one of the most flavorful options on this list, Allagash's Saison ale is delightfully packed with citrus notes and peppery accents. It's a great option for a hot afternoon on the beach or on the lawn. 
8
Corona Premier
Carbs: 2.6g
Calories: 90
ABV: 4.0% 
Corona has a cult following for a reason — and this lighter version retains all of the same flavors, minus the calories and all those carbs. 
9
Shipyard Summer Ale
Shipyard
drizly.com
$17.59
Carbs: 7g
Calories.: 153
ABV: 5.1%
Far from a diet beer in any regard, this wheat ale has a crisp malt flavor that plays well with fresh citrus. It's full of robust flavor despite its reduced 7g of carbohydrates. 
10
Natural Light
Carbs: 3.2g
Calories.: 95
ABV: 4.2%
All of your "Natty Light" jokes and college references aside, this affordable, dry lager contains just over 3g of total carbohydrates in each day. The 95 calories aren't anything to sneer at either.
11
Miller Lite Lager Beer
Miller Lite
drizly.com
$21.99
Carbs: 3g
Calories: 95
ABV: 4.2%
It's a perfect blend of barley, hops, rice (yes, really!), and water, and has been for years. The crisp profile is only bolstered by barley malt, and you'll come to love it (especially since you can likely enjoy more than one!).
12
Coors Light Lager Beer
Coors Light
drizly.com
$12.99
Carbs: 5g
Calories: 102

ABV: 4.2%

Having popularized light beer for many non-dieters, any low-carb or Keto aficionado will love incorporating Coors Light into a cheat day. 
13
Heineken Light
HeinekenUSA
drizly.com
$16.99
Carbs: 6.8g
Calories: 99
ABV: 3.3%
If you're a diehard Heineken fan regularly, you'll be happy to hear that its light beer can be a part of your low-carb diet. But as it's one of the heftiest carb-loaded beers on this list, you'll need to watch your intake for the rest of the day to avoid ricocheting off ketosis.
14
Tecate Light
Carbs: 7g
Calories.: 110
ABV: 3.9%
A soft choice on any grocery budget, Tecate's light lager is known for its distinct citrus flavor, a standout beer on this list. While it's higher in carbs than others, the unique flavor might be just what you're hankering for.
15
Pabst Blue Ribbon Easy
Pabst Blue Ribbon
drizly.com
$11.59
Carbs: 8g
Calories: 110
ABV: 3.8%
Another classic with a cult following, a standard can of Pabst will definitely push your keto boundaries. But the brand's Easy lager clocks in at 8g of carbs, which is manageable for those who are dying for its refreshing taste.
This content is created and maintained by a third party, and imported onto this page to help users provide their email addresses. You may be able to find more information about this and similar content at piano.io
Advertisement – Continue Reading Below
Source link