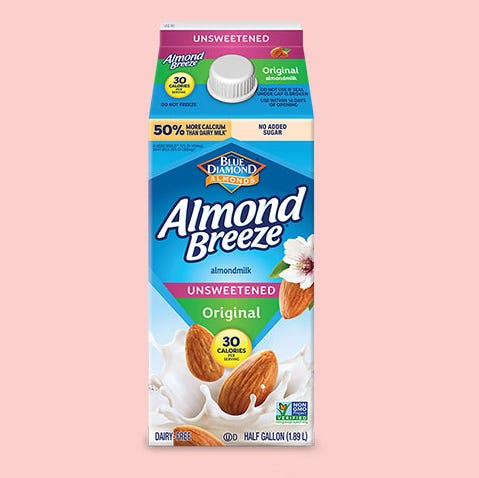 According to the Dietary Guideline's Advisory Committee's latest scientific report, the average American consumes about 13% of their total daily calories from added sugars. Not ideal, considering sugar consumption is linked to a trove of health problems, including diabetes, heart disease, obesity, and more.
So how do we cut out all the excess sugar? The 2020-2025 Dietary Guidelines for Americans recommend limiting added sugar consumption to less than 10% of calories per day, a totally manageable amount to anyone conscious of what they're putting in their body. Need a little extra help? We've picked out some perfect (and delicious) swaps for typically high-sugar items on your grocery list, to keep you eating the way you like, but with less added sugar. Sweet, right?
Advertisement – Continue Reading Below
1
Unsweetened Original Almondmilk
Whether you're starting your morning with a homemade smoothie and a latte or winding down at night with a mug of tea, you won't miss any sweetness when stirring in Almond Breeze's Unsweetened Original Almondmilk. Newly awarded the Good Housekeeping Nutrition Approval (GHNA) Emblem and a favorite of GH's very own RD, Stefanie Sassos, the Unsweetened Original Almondmilk is low in calories and has zero sugar. It's also a good source of vitamin A and an excellent source of calcium and vitamins D and E. In fact, the vegan friendly nut milk has 50% more calcium than dairy milk, and its excellent natural creaminess makes it the perfect addition to any hot beverage, bowl of cereal, and beyond.
2
Naturally Flavored Sodas
United Sodas of America
unitedsodas.com
$34.99
If swapping out sparkling water to kick your soda habit just doesn't cut it for you, check out these ultra premium flavored sodas, sold in cans so cute you may just want to keep them. At 30 calories and 6 grams of sugar (all natural, nothing artificial), per can, United Sodas are a manageable, low sugar treat. Flavors range from the classic gingery ale to the more upscale strawberry basil or white grape.
3
Sprouted 7-Grain Bread
Angelic Bakehouse
angelicbakehouse.com
$4.99
Packaged breads are often a hidden source of sugar, thanks to added sweetener and processed grains. Enter: Angelic Bakehouse's melange of buns, wraps, and crackers, which focus on being low glycemic, meaning lower carb and higher fiber. A slice of Angelic's sprouted 7-grain bread contains only one gram of sugar and half a gram of fat, and the soft bread is perfect for sandwiches, toast, and even a low sugar bread pudding.
4
Organic Unsweetened Ketchup
Primal Kitchen
primalkitchen.com
$5.99
One of the reasons so many of us love ketchup on everything is that it's packed with sugar. But if you're in on the secret that tomatoes themselves pack tons of natural sugar and sweetness, you may be ready to transition to a healthier version. Primal Kitchen's ketchup is made from concentrated tomatoes, giving the condiment that beautiful bright red color, and flavored with vinegar and seasonings, to keep the sugars low—one gram per serving!
5
Not Just Pasta Sauce
Not Just Co.
notjust.co
$27.00
Jarred tomato sauce often packs in added sugars for flavor, but letting fresh ingredients speak for themselves is so much better than artificial sweetness. Not Just Co. prides itself on not adding sugar to its jarred pasta sauce, instead opting to sweeten and flavor the sauce with 10 types of veggies including peppers, beets, zucchini, and carrots.
6
Intense Fruit Spread
Bonne Maman
amazon.com
$8.70
Concocted with 39% less sugar than their typical preserves, Bonne Maman's low sugar jams let the fruit speak for itself, without all that added sweetness. And guess what—you don't need it. Flavors like apricot, blueberry, and cherry are rich and saccharine with eight grams of sugar per serving. Stir it into unflavored yogurt to make a sweet parfait or spread it on low sugar toast.
7
Buttermilk Power Cakes
Kodiak Cakes
kodiakcakes.com
$5.50
If you have the energy to whip up pancakes from scratch in the morning, congrats, but for the rest of us, a mix will have to do. Kodiak Cakes' nutritionally satisfying dry mix is an excellent low sugar swap, at three grams of sugar per serving. Made with whole grain wheat flour, oat flour, and brown sugar, these flapjacks give your breakfast (or any meal, real) a fulfilling boost.
This content is created and maintained by a third party, and imported onto this page to help users provide their email addresses. You may be able to find more information about this and similar content at piano.io
Advertisement – Continue Reading Below
Source link