Crunchy yet tender this Air Fryer Roasted Garlic Broccoli is going to become a favorite side dish. Super quick and easy this is the best way to cook broccoli guaranteed!
Roasting vegetables in the air fryer is a game changer! It creates incredible texture and flavor like in these Brussel Sprouts, Potatoes and Sweet Potato Fries.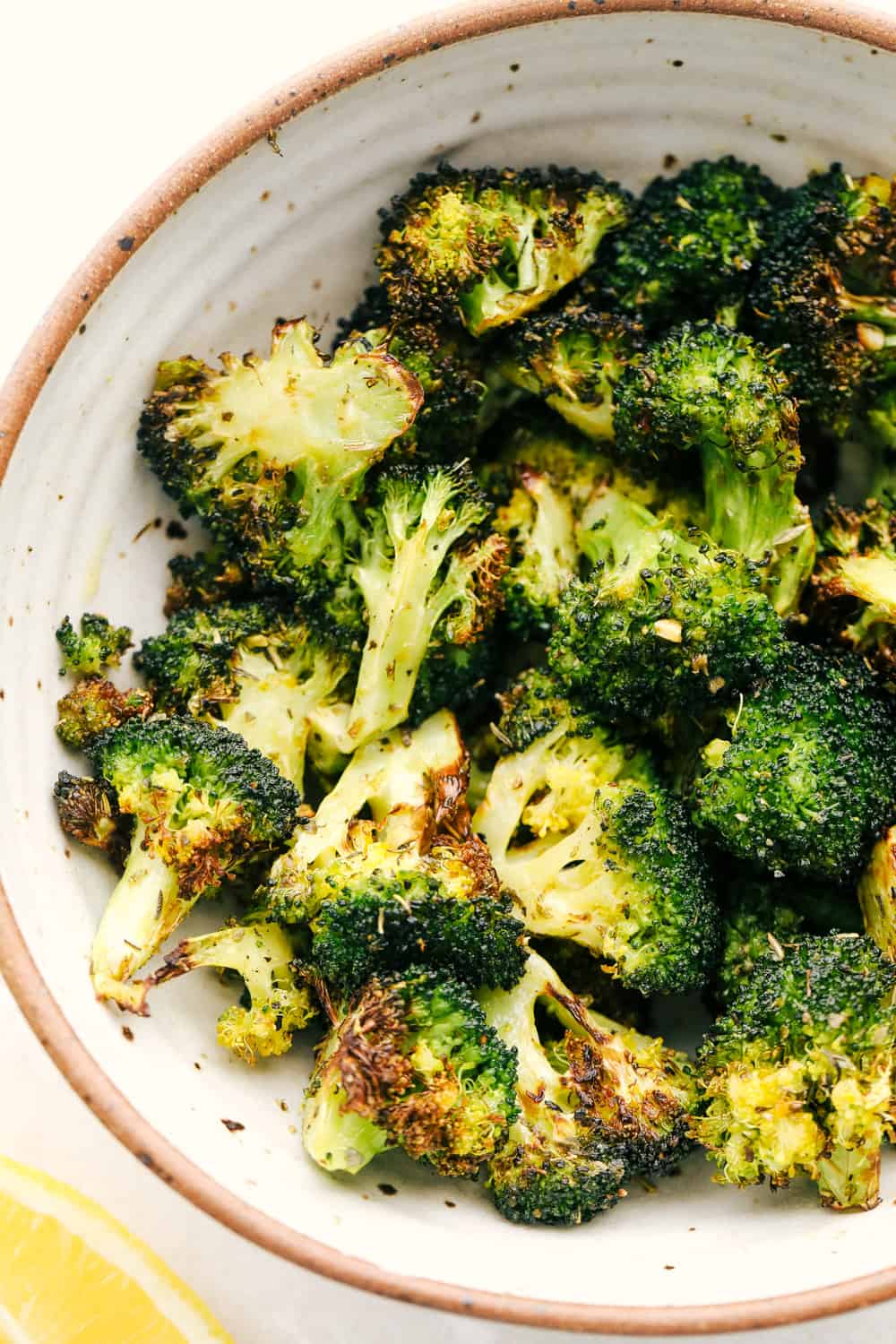 Air Fryer Broccoli
There are so many times where I'm cooking dinner which is almost done and I realize I should have some side dishes. But I don't have enough time to turn on the stove and roast vegetables for 20 min in the oven before the rest of dinner is done. Enter the best invention ever! The air fryer! Now you can have healthy roasted broccoli in minutes. It'll be done and on the table before your dinner! The air fryer is super convenient, fast, healthier, and you don't have to turn the oven on. It's pretty much an incredible invention.
If you are having a hard time getting your kids to eat their broccoli, try this air fryer recipe. It will change everything. The broccoli comes out crispy, and almost caramelized, especially the florets, which is absolutely divine! The garlic adds a bit of crunch and flavor. It's insanely delicious! Not only will this be your go to side dish, it's so easy and good, it'll become a favorite snack.
Ingredients for Roasted Garlic Broccoli
With only a few ingredients, it's super fast to mix together and get air frying! Add seasonings to taste.
Broccoli: I used florets, if you like more stalk you can leave it long.
Olive Oil: Just enough to help the seasoning stick.
Garlic: Fresh minced, or jarred minced garlic if your in a hurry.
Italian Seasoning: The perfect combination of seasonings for the air fryer broccoli
Salt and Pepper: Just to taste
Making Air Fryer Garlic Broccoli
Super fast and easy this air fryer roasted broccoli comes together in a hurry. Which is ideal for those crazy busy night. Now I don't have to choose between getting the main dish or the side dish done. I can do both!
Mix: In a medium sized bowl add the broccoli, garlic, Italian seasoning, salt and pepper. Stir to coat evenly.
Cook: Place the broccoli in your air fryer basket. Air Fry at 400 degrees for 8-10 min or till tender.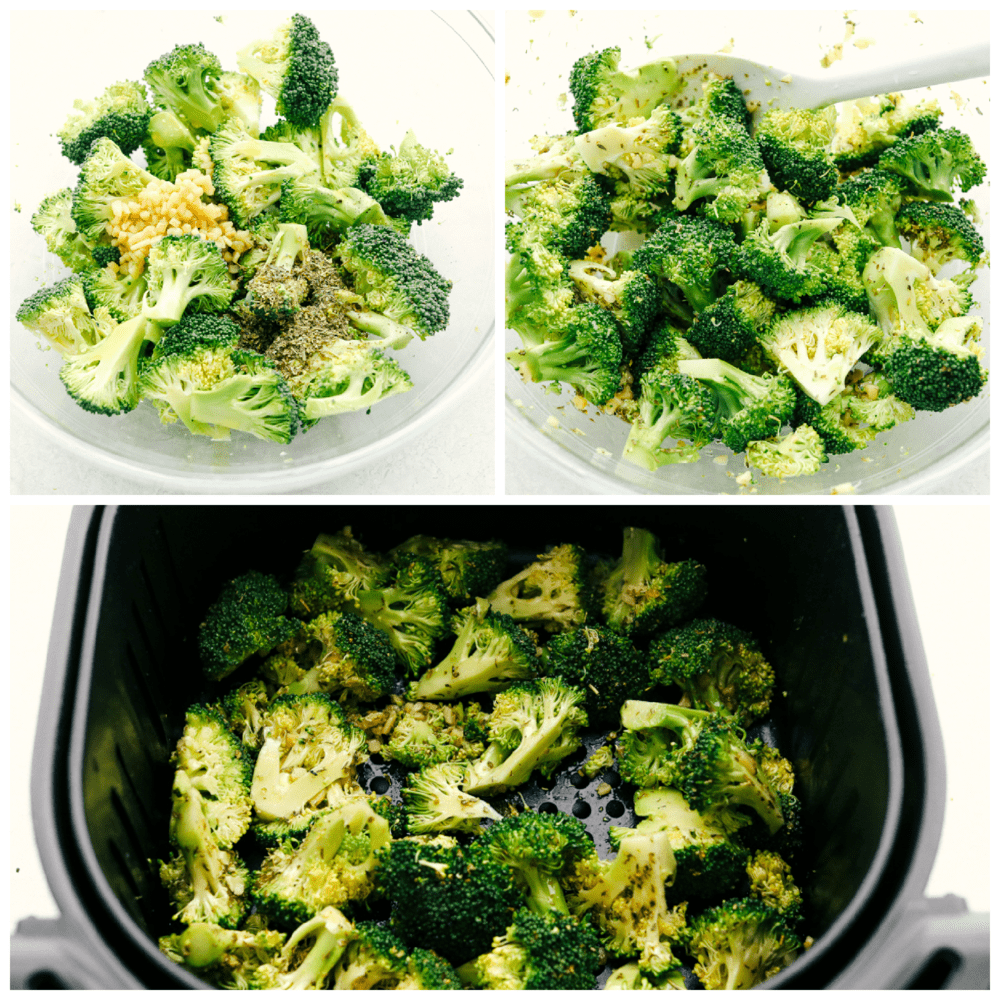 Easy Air Fryer Broccoli Tips
After you try this air fryer broccoli recipe you'll never roast broccoli in the oven again. This is so much faster and so good!
Know Your Air Fryer: Every air fryer, just like every oven cooks a little differently. As you get to know your air fryer you may need to adjust times and temperatures to get the desired results. And don't over crowd your air fryer, bake in batches if you need to.
So how do you like your Broccoli? Cooking the broccoli in the air fryer makes it easy to control the outcome. If you like your broccoli tender and crispy, cook it a little longer. If you like it a little bit underdone cook it for a little bit less time. It's up to you.
Broccoli Preparation: You want the air fryer to roast your broccoli, not steam it, so make sure your broccoli is washed and dry as much as possible. Also cut your broccoli into even chunks as much as possible. This will help the broccoli cook evenly.
If your Broccoli is burning: Try cooking the broccoli for less time or at a lower temperature. Also you can try putting a tablespoon or two of water in the bottom to help keep it from burning. It might make your roasted broccoli a little bit soft but should still crisp it enough. If you notice the garlic is the thing burning sub out powdered garlic for the minced garlic. It has a tendency to burn less.
Roast From Frozen:  If you use frozen broccoli add 3-5 minutes to your time.
How to Pick the Best Broccoli!
Air frying broccoli is something you can do year round. It's available year round. Roasted broccoli is one the healthiest ways to eat broccoli because it actually helps preserve its nutrients. Steaming "washes away" the nutrients and even though raw is best, broccoli doesn't really taste all that great raw by itself at least. We usually add dressings and other things to help it go down. Like in this Broccoli Apple Salad or Bacon Ranch Pasta.  Adding it salads is absolutely scrumptious. But to eat it alone, roasting is where it's at, it preserves all it's vitamins and minerals and tastes incredible. So how do you pick great broccoli for this recipe?
Dense:  Good broccoli should be a dense cluster, and feel heavy.
Florets:  The florets will be tightly packed and sturdy, not limp and rubbery. And the florets shouldn't look like they're opening. Avoid yellow or brown florets too.
Stalk and Leaves: Look for sturdy stalks that look moist where it was cut. The leaves should be green, not yellow and there shouldn't be any dark spots on the leaves or stalk.
Serving Air Fryer Roasted Broccoli
This healthy side dish can easily stand on its own, especially with the incredible seasonings. Air frying broccoli is so easy you'll want to make it and serve it in all it's different ways.
Sauces: If you like to dip your vegetables try ranch dressing, cheese sauce or alfredo. All of these are delish!
What to serve with roasted broccoli? Roasted broccoli goes with so beautifully with so many things. Serve it with rice and a protein and your dinner is set. Serve with chicken, pork, beef, or fish. Any and all will be great.
Variety:  Mix up the spices to customize your roasted broccoli. There's cumin, chili powder, basil, even everything but the bagel seasoning, is incredible. And don't forget cheese! Top with parmesan, cheddar or pepper jack.  Make it fit your meal and your craving.
Storing: Roasted Broccoli is best served immediately. Storing the the broccoli will cause it to go limp. It'll still taste amazing, but it loses its crispy crunchiness. Store leftovers in a sealed container in the fridge for 3-4 days. Reheat in the microwave.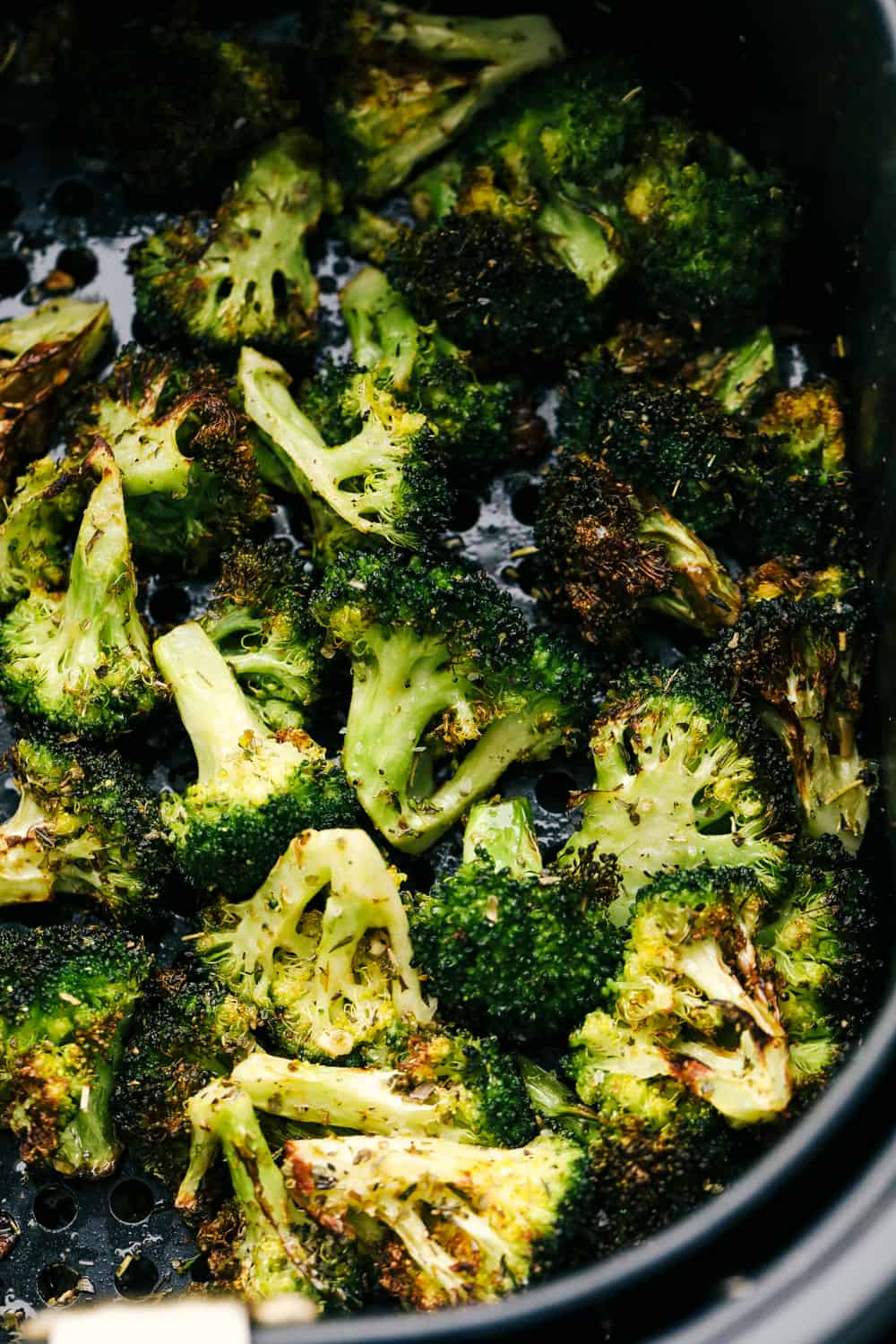 More Air Fryer Inspiration
Air fryers cook by circulating hot air around the food creating scrumptious outsides and tender juicy insides. Air frying is usually faster, healthier and creates food better than you've ever tasted. These are must try recipes!
Air Fryer Broccoli
Prep Time 5 minutes
Cook Time 10 minutes
Total Time 15 minutes
Author Alyssa Rivers
Servings 4 People
---
Crunchy yet tender this Air Fryer Roasted Garlic Broccoli is going to become a favorite side dish. Super quick and easy this is the best way to cook broccoli guaranteed!
---
---
4




cups




broccoli florets

1




Tablespoons




olive oil

3




cloves




garlic




minced

1




Tablespoon




italian seasoning

salt and pepper
---
In a medium sized bowl add the broccoli, olive oil, garlic, italian seasoning and salt and pepper. Toss to coat evenly.

Add the broccoli to your air fryer basket. Cook at 400 degrees for 8-10 minutes or until tender.
---
Serves: 4
All nutritional information is based on third party calculations and is only an estimate. Each recipe and nutritional value will vary depending on the brands you use, measuring methods and portion sizes per household.