These Air Fryer Frozen French Fries come out exactly like your favorite fast food fries! They are crispy, golden on the outside and perfectly soft on the inside. So much better than frying or baking!
Try these homemade, sweet potato and the baked fries in the air fryer. They are truly the best way to make potatoes!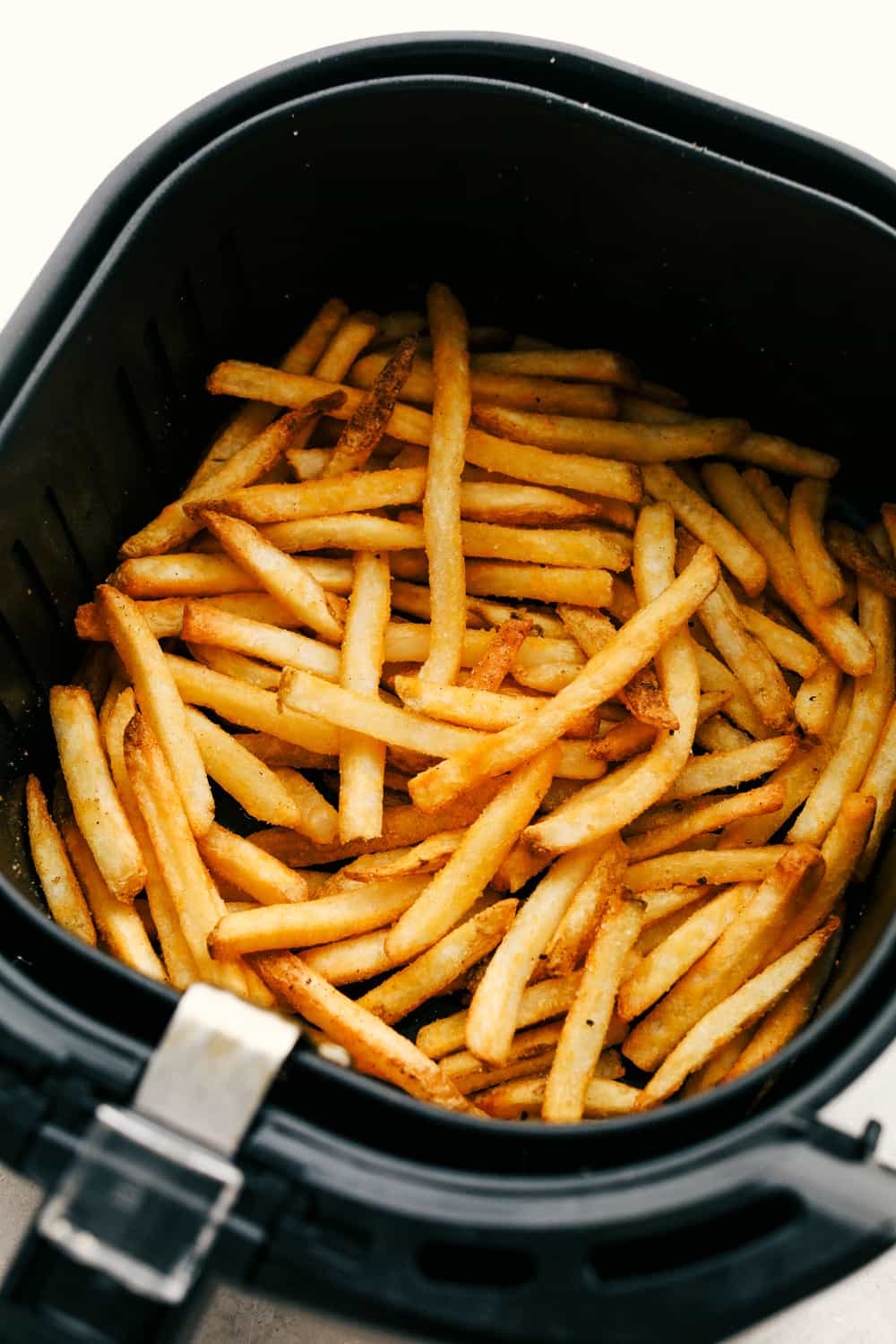 Air Fryer French Fries
Say goodbye to the guilt of indulging in french fries! When you are craving that salty, crispy hot fresh french fry, air frying is the only way to go. They taste just like they've been fried in oil, but they are not! They are so much healthier for you, and the taste is amazing. I used to bake my frozen french fries so I wouldn't have to fry them and I'd feel better about serving them to my family. But the taste and texture always fell a little short. You have to try this air fryer recipe. It will change the way you eat your french fries forever.
Air Frying has changed the way I cook so many things. From steak, to chicken, to even pizza, the air fryer makes them faster, healthier and so much better. With this air fryer frozen fry recipe you get all the taste and texture of fried french fries but without all the oil and fat and so much faster than in the oven. It's a total winner in my book.
Ingredients for Air Fryer Fries
As you can guess, there are not too many ingredients to this simple recipe. Pick your favorite brand and type of frozen french fries. These are so good, you'll want to keep a few bags in the freezer so you always have them on hand.
Frozen French Fries:  16 oz bag is all you need. If you have a bigger bag you'll need to cook them in batches.
Salt to Taste:  I really like to use season salt here.
Olive Oil Spray:  Just to help the salt stick to the fires.
Let's Make some French Fries!
These frozen fries become transformed by the air fryer! In a matter of minutes you have incredible fries ready to be devoured. It's a total meal saver when you need a side dish to go with your ultimate tuna melt or toasted cheese. Or just when you need a salty good snack.
Place:  Place your frozen fries in the air fryer basket.
Season:  Spray with olive oil lightly and sprinkle with desired salt.
Bake: Air fry at 400 degrees for 10 minutes. Give the basket a good shake and cook for 5-8 minutes more or till done as you like them.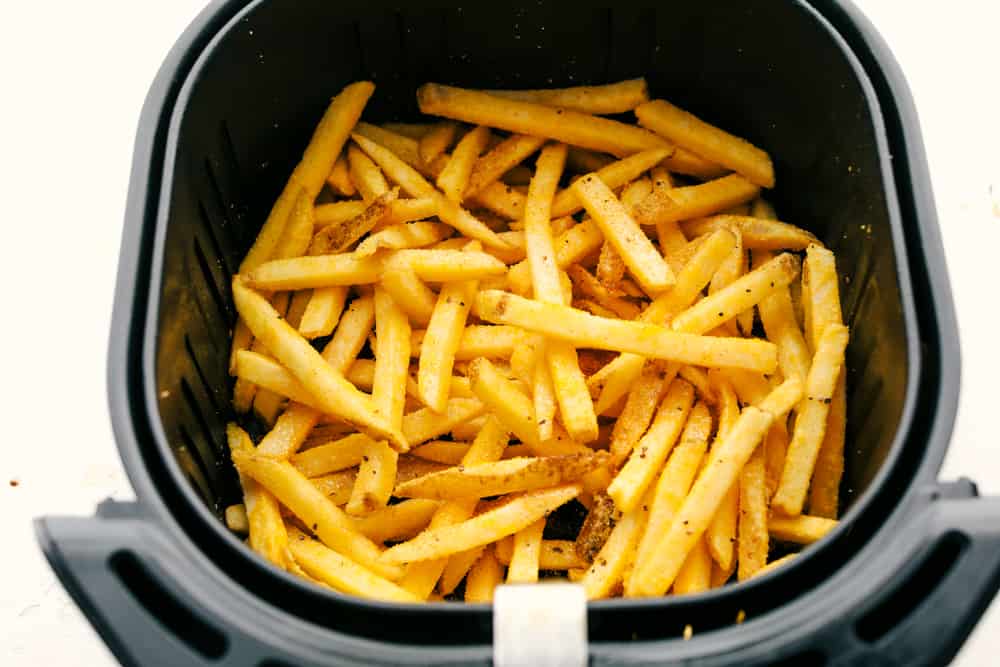 Tips for the Best Air Fryer Frozen Fries
Shake it up: To make sure your fires all get crispy and cooked evenly be sure to toss them gently half way through. You'll want to rotate the bottom to the top and move them around. You can shake them up more than once, if you'd like. Some air fryers rotate, but you'll still want to check and see how they're doing half way through.
Don't Overfill:  For frozen fries you don't want to fill your air fryer more than half to 3/4 full. You do not have to put frozen fries in a single layer, but you for do not want to over crowd the basket. You may end up with undercooked fries.
Crispier:  Depending on the thickness and type of fry you use, you might need to increase or decrease the cooking time. The longer you cook the fries, the crispier they will become.
Different types of Fries
There are several types of fries and so they will cook a bit differently. These are good suggestions for starting times.
Crinkle-Cut/Waffle Fries: 10-11 minute
Sweet Potato Fries: 16 minute
Lattice Cut Fries:  10-11 minute
Shoestring Fries: 8-10 minute
How to Serve Air Fryer Frozen French Fries
These french fries are going to be so tempting you may not need to worry about serving them with sauces. They'll be gone before you can get them out of the basket. But if you can keep the fingers out of the air fryer, there are many ways to serve these frozen french fries. Ketchup is the original sauce that was made for french fries, but there are other sauces to dunk these air fryer fries in.
Fry Sauce: This amazing sauce was solely invented to go with french fries. It's a grown up version of ketchup and it is divine. In my home it has replaced ketchup and mayo on hamburgers even. It's so good!
Yum Yum Sauce: This popular sauce is light, sweet and tangy! An excellent choice!
Cheese Sauce: Cover the golden fries in a rich thick cheesy sauce that's going to knock your socks off.
Ranch Dressing:  As my kids would say, everything's better with ranch dressing!
Make your Own Sauce: Mix your favorite spices with a bit of mayo and ketchup to create a unique sauce of your own. Add chipotle chili powder, garlic powder, and onion powder with mayo and ketchup for a spicy western sauce that's awesome. There are lots of possibilities.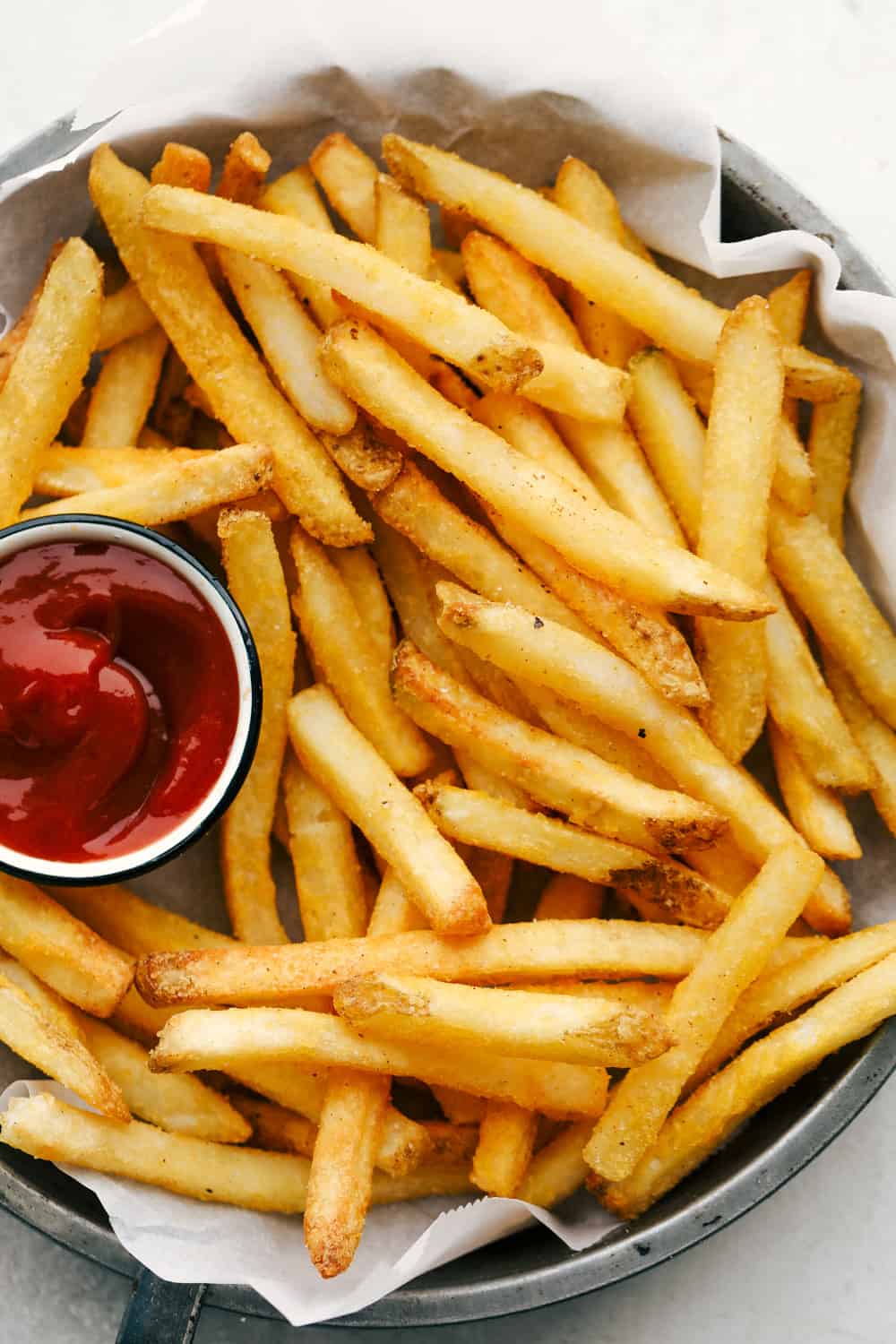 More Air Fryer Recipes to Try
I love using my air fryer for as much as possible these days. It makes the best main dishes, side dishes and even desserts. If you are new to the air fryer world here are some tried and true air fryer recipes to get you started. You are going to love these.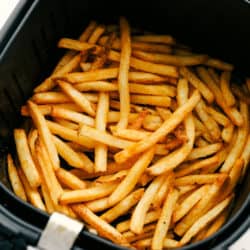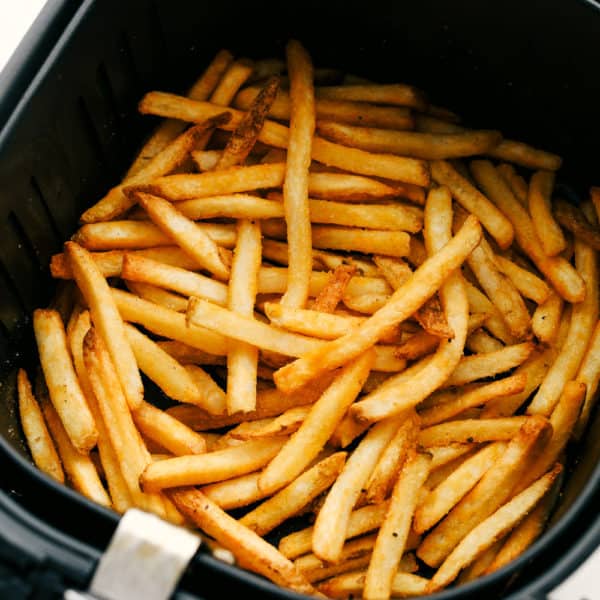 Air Fryer Frozen French Fries
Prep Time 5 minutes
Cook Time 15 minutes
Total Time 20 minutes
Author Alyssa Rivers
Servings 4 People
---
These Air Fryer Frozen French Fries come out exactly like your favorite fast food fries! They are crispy, golden on the outside and perfectly soft on the inside. So much better than frying or baking!
---
---
16




ounce bag




frozen French fries

salt to taste




I like to use seasoning salt

olive oil spray
---
Place the frozen fries in the basket of your air fryer. Sprinkle with salt and spray lightly with olive oil spray.

Cook for 400 degrees for 10 minutes. Shake the fries and cook for an additional 5-10 minutes until crispy.
---
Serves: 4
Calories295kcal (15%)Carbohydrates34g (11%)Protein3g (6%)Fat17g (26%)Saturated Fat5g (25%)Sodium556mg (23%)Potassium488mg (14%)Fiber5g (20%)Vitamin C7mg (8%)Calcium10mg (1%)Iron1mg (6%)
All nutritional information is based on third party calculations and is only an estimate. Each recipe and nutritional value will vary depending on the brands you use, measuring methods and portion sizes per household.