Sports
'I wanted to shoot my shot'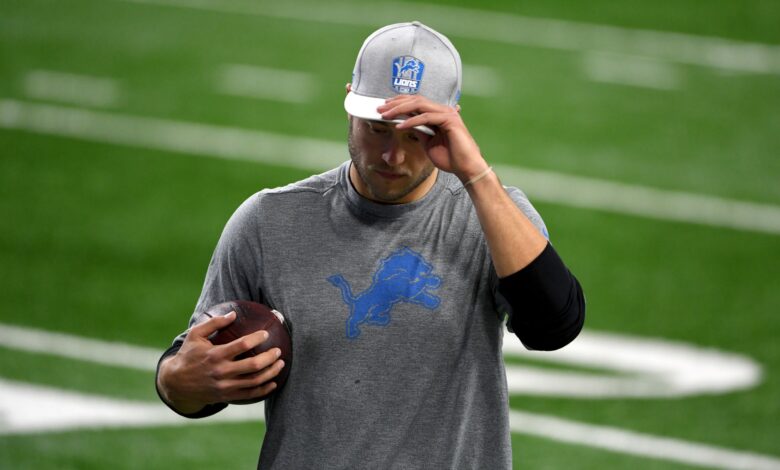 Matthew Stafford is getting a brand new start with the Los Angeles Rams next season. His trade from the Detroit Lions will give him a chance to get away from a team in a perpetual rebuild and stretch his legs with a well-constructed team and a trusted coach. 
The decision to leave Detroit after 12 years wasn't easy, though. In an interview with the Detroit Free Press, Stafford opened up about the trade for the first time, discussing why he wanted to move on and how ready he is for the future.
Ready for the spotlight
Stafford, with the Lions in rebuild mode for the last three years, knows that things will change drastically once he gets to LA. He'll be expected to lead the team to the playoffs and win. It's a lot, but Stafford knows what he's getting into. 
"I've always wanted to play in those big games, I feel like I will excel in those situations," he told the Detroit Free Press. "I wanted to shoot my shot."
Stafford was ready to shoot his shot wherever he landed, whether it was San Francisco or Indianapolis or Washington. He'd never really considered the Rams, but they "aggressively jumped into it." When he and his wife, Kelly, finally found out they were going to Los Angeles, they felt a mixture of surprise, relief, and a little sadness.
"Obviously, we were excited for a new start, excited for the whole process of being on the trading block to be over. Now we had a place. We knew where we were going. I was excited about their roster and their coaching staff and what they can bring to the table and their recent success.
"But at the same time, it was a close of the door in Detroit. At that moment it was real."
The end of a dream
Stafford told the Detroit Free Press that his love of Detroit runs strong and deep. He got married while he was with the Lions, his four daughters were born in Detroit, and even had the rest of his career planned out. He wanted to stay with the Lions, win two Super Bowls, and then have his retirement ceremony on the field "seven or eight years from now, with Martha Ford and Sheila Ford and all of them around, and a bunch of ex-teammates and local people I know.''
Despite that, Stafford saw the writing on the wall. The Lions hadn't excelled under head coach Matt Patricia, they'd gotten progressively worse. When Patricia and GM Bob Quinn were given the boot at the end of the season, he knew it was time to face reality. If he wanted more from his career at 33 years old, he'd have to go somewhere else to find it. 
"Sometimes it's not the perfect storybook ending in the same place," he told the Detroit Free Press. "But I can leave here knowing that I gave this team every damn thing I had.
"The way that they handled it, I think it's worked out for everybody, and I think it will in the future. I cannot express how much gratitude I feel towards the Lions for handling it the way they did."
Unimaginable support
Stafford was worried about going to talk to owner Sheila Ford Hamp and president Rod Wood about his desire to leave, but he was resolved to be honest with them about his feelings.
"I shared my disappointments in not being able to bring them what I ultimately wanted, a championship. It was a tough conversation, probably the hardest one I've ever had, but one that I walked out of, frankly, blown away with their support and their understanding. The respect. I mean, it was pretty incredible."
Stafford said that he felt like a massive weight had been lifted when he walked out of that meeting. He had been so concerned about how Hamp and Wood would react, that they'd think the worst of him for wanting a shot somewhere else. He was relieved that they supported him, and understood why he wanted to go.
"You know, I want nothing more than to be able to come back to this place 10 years from now and everybody welcome me with open arms," he said. "And that was one of the biggest things that was weighing on me as I went in there to talk to them. I was like, 'I don't want anybody to ever feel like I'm giving up on this town, or this city, or this place, I gave it everything I possibly had here."
More from Yahoo Sports:
Source link