Business
Rs 1.1 Lakh Crore Allocated For Indian Railways, Thrust For Freight Corridors, Electrification Of Rail Routes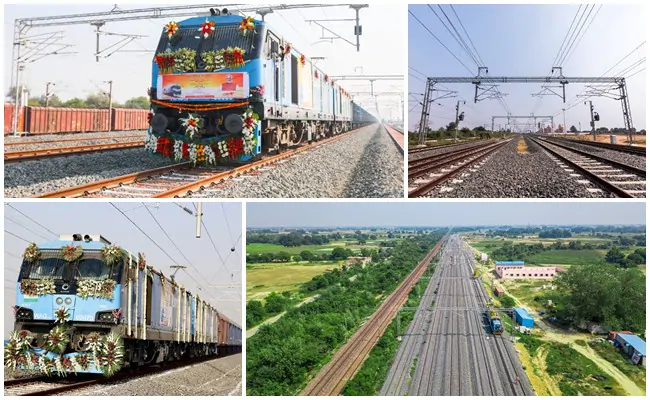 Railway Budget 2021: Finance Minister Nirmala Sitharaman presented the Budget in the Lok Sabha today and announced an allocation of Rs 1,10,055 crore for Indian Railways, out of which Rs 1,07,100 is for capital expenditure. As part of the Railway Budget, some major announcements were made for increasing passenger safety and strengthening the national rail infrastructure. To improve passenger safety, it was proposed that the high-density rail networks and highly utilized rail routes will be provided with indigenously developed automatic train protection system that will eliminate train collisions due to human error. Along with this, the Indian Railways network will witness 100 per cent electrification of rail broad gauge routes will be completed by the month of December 2023. 
The dedicated freight corridor project of Indian railways — one of the biggest infrastructure projects in the country, also got a boost as part of the railway budget 2021. The government expects that the western dedicated freight corridor, as well as the eastern dedicated freight corridor, will be commissioned by June 2022. 
Railway Budget 2021 proposed that the 263.7 km long Sonnagar – Gomoh section of the eastern DFC will be taken up in the public-private partnership (PPP) mode in 2021-22. The 274.3 km long Gomoh-Dankuni section will also be taken up in succession, according to the Finance Ministry. New dedicated freight corridor projects namely the East Coast corridor from Kharagpur to Vijayawada, the East-West corridor from Bhusaval to Kharagpur to Dankuni, and the North-South corridor from Itarsi to Vijayawada. The detailed project reports for these routes will be undertaken in the first phase.
Along with these, the broad gauge route kilometers (RKM) electrified is expected to reach 46,000 RKM, or 72 per cent by the end of 2021 from 41,548 RKM on October 1, 2020. Indian Railways will introduce aesthetically designed vista dome LHB coach on tourist routes, according to Finance Minister.
"New freight corridors will help the free flow of the goods and commodities across India and will also be good for the objective of the government to increase the farmers income specially with the current bill in place as they would be able to sell across states and also decreasing the cost of transportation with new infrastructure," said Gaurav Garg, Head of Research at capitalVia Global Research Limited.
Source link